Saturday, October 7th, 2006
Ruggley runs wild on Celina defense
Bath running back tops 200 yards
By Ryan Hines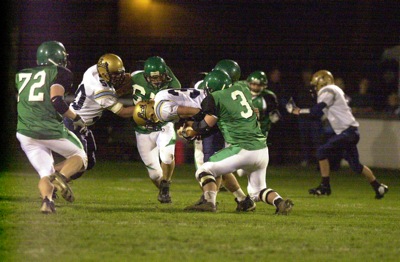 Celina head coach Jerry Harris knew that Bath was going to try and beat his Bulldogs with a powerful running game and that's exactly what the Wildcats did on Friday night at Celina Stadium.
Todd Ruggley rushed 29 times for 216 yards and two scores leading Bath to a 21-8 win over Celina spoiling the Bulldogs' homecoming festivities.
"I said earlier in the week that Bath has a good offensive line and a very good running back and both of those things were evident tonight," said Harris. "When you don't block and you don't tackle, you aren't going to win a football game. We did neither and we didn't win the game because of it."
According to first-year Bath head coach Todd Clark it was the play up front that decided this Western Buckeye League contest.
"Todd's a workhorse and we're going to give him the ball a bunch of times, but I was happy with the way that we were opening holes up front," said Clark. "People are going to key on Ruggley when they play us, but that just means that our offensive line has to work that much harder to open those holes to run.
"We got knocked around last week (against Ottawa-Glandorf) and we really challenged our kids this week to win the battle up front and I think that we did that tonight and it had a lot to do with us winning this game," added Clark. "I think that we won the battle of the line of scrimmage on both sides of the ball tonight."
In addition to a punishing 263 rushing yards, Bath ended a 16-game streak without a touchdown pass when Zach Sterling hooked up with Zach Painter on a 29-yard score midway through the fourth quarter.
It was only after a 21-0 deficit when Celina was able to score late in the fourth quarter.
John Bonvillian helped get Celina in scoring position with five rushes for 34 yards before Derek Gagle tossed a touchdown pass to Jordan Rolfes on a tipped pass in the end zone.
The 68-yard scoring drive in the fourth quarter was the only bright spot on an otherwise dreadful night for the Bulldogs' offense. Gagle was pressured on nearly every passing attempt and completed just 6-of-21 passes for 52 yards to go along with a pair of interceptions while the running game mustered just 143 yards, many of which came in the fourth quarter with the outcome of the game already decided.
Celina did find itself lucky being down just 7-0 at halftime since Bath fumbled the ball away to the Bulldogs twice in the red zone and three times total in the first half of play.
"We were pretty lucky that our defense played well because with two fumbles in the red zone in the first half, we gave away two good opportunities to score touchdowns," said Clark. "Our kids did a good job of making sure that the first-half turnovers didn't come back to haunt us. They never hung their heads after the mistakes and just kept coming back. We didn't have that attitude last year (Bath was 0-10 last year). We would have hung our heads last year if that would have happened."
After Celina was unable to convert on Bath's turnovers, the Wildcats took advantage of the Bulldogs' turnover to start the second half. Gagle rolled out to pass but got hit hard and fumbled the ball away to Bath. Ruggley ripped off a 29-yard gain to put the ball at the one-yard line before crossing it for a 14-0 lead early in the second half.
It was also a busy week for Celina's football program off the field as the Bulldogs were playing without three of its starters with Stu Amstutz, Matt Paulus and Kole Highley not dressed for Friday's game.
Amstutz chose not to play football in favor of walking in pre-game homecoming festivities. Harris instituted a team rule that players cannot walk for homecoming, a rule made known to all team members the day he took over at Celina months ago according to the Bulldogs' mentor.
Paulus and Highley were suspended for a second alcohol-related offense. On the first alcohol-related offense, Celina athletes miss 20 percent of that sports season and a second offense means 50 percent of the season.
Celina is back in action again Friday on the road at Ottawa to face the O-G Titans.