Tuesday, January 9th, 2007
Area residents injured in separate accidents
By Margie Wuebker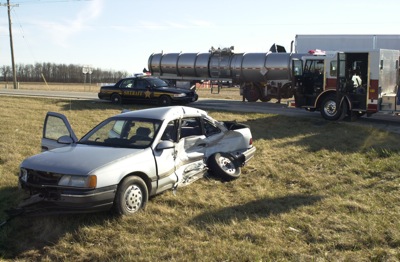 Two people, including a retired priest who had served parishes in Minster and St. Henry, were seriously injured Monday in a pair of traffic accidents on rural Mercer County roadways.
The Rev. Joseph M. Pax, 85, 2860 U.S. 127, Celina, remains in critical condition at Miami Valley Hospital in Dayton, following a 1:43 p.m. accident at the intersection of state Route 29 and Burkettsville-St. Henry Road.
Kyle D. Homan, 21, 1618 state Route 716, Maria Stein, is listed in fair condition at the same hospital following a single-vehicle accident at 6:41 p.m. on Fort Recovery-Minster Road, west of Mercer-Auglaize County Line Road.
Pax, a current resident of St. Charles Center, stopped northbound on Burkettsville-St. Henry Road , according to Mercer County Sheriff's Office reports. He then pulled into the intersection, where his 1990 Ford Taurus was struck broadside by an eastbound International semitrailer driven by Ross K. Higgenbotham, 50, of Fort Wayne, Ind.
The car then struck the front of a westbound Freightliner semitrailer driven by Mark W. Weidinger, 54, of Bellevue. Weidinger was stopped on state Route 29 at the time waiting to turn south onto Burkettsville-St. Henry Road. The car then careened into the ditch.
The retired priest was taken from the scene by Celina paramedics to Mercer County Community Hospital in Coldwater. A CareFlight helicopter then transferred him to Miami Valley, where he remains under treatment in the intensive care unit.
The big rigs sustained light to moderate damage while the heavily damaged Pax car was towed from the scene.
Osgood Rescue Squad and Osgood Fire Department personnel responded to the scene of the later accident and used the "jaws of life" to remove Homan from the wreckage of his 1999 Chevy pickup. He left the scene aboard a CareFlight helicopter bound for Miami Valley.
According to sheriff's office reports, Homan was westbound when he drove off the right side of Fort Recovery-Minster Road and apparently overcorrected. The vehicle then traveled off the left side of the pavement striking a utility pole. It reportedly spun and overturned striking several fence posts before coming to rest in a pasture field.
The pickup truck sustained heavy damage and was towed from the scene.
The accident remains under investigation.