Wednesday, February 7th, 2007
Redskin football trio make college plans final
Puthoff, Hartke are off to Ball State and Werling is headed to Ohio Dominican
By Gary R. Rasberry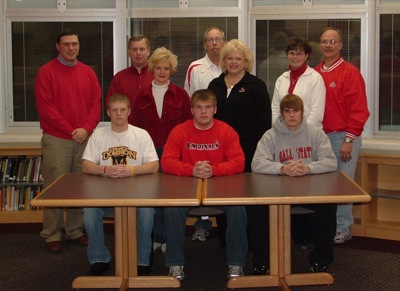 ST. HENRY - Three key parts of St. Henry's last two state championship football teams made their choices for college known.
Today marks the first day college football recruits can sign their national letter of intent.
Andy Puthoff, an all-Ohio running back, and Ryan Hartke, one of the top receivers and defensive backs in the Grand Lake area, both chose Ball State University as their next stop on their football resume.
St. Henry standout defensive back Josh Werling will play at NAIA Ohio Dominican.
Redskins coach Jeff Starkey is proud to see this trio, part of the first set of freshmen he worked with as head coach at St. Henry, move on to the next level.
"I'm very proud of them," said Starkey, who guided the current senior class to a 38-12 record in their four seasons. "I know each one of these guys worked very hard to play at the next level, and they have that opportunity. St. Henry had a pretty strong tradition of producing college football players, but these guys have really worked hard for it. Andy, Ryan and Josh are deserving of scholarships."
Defense will be Putty's focus
After earning All-State honors as both a running back and linebacker, Puthoff will move to a new spot on the field for coach Brady Hoke.
The 6-3, 230-pound bulldozer, who was recruited for his defense, will move up to the front of the line to play defensive end for the Cardinals.
"It'll be a little different," said Puthoff, looking to major in physical education. "Being in a three-point stance will be a little different. It'll be something to get used to."
Puthoff, who recorded 73 tackles (nine for a loss), also rushed for 2,398 yards and a school record 37 touchdowns as the Redskins went 14-1 and captured the Division V state title.
"I thought about that, too," said Puthoff about looking to work the offensive side of the ball in college. "I just want to play Division I football. Wherever they want to play, wherever they need me, I'll play."
Puthoff earned first-team All-Ohio honors in 2006 as a running back along with Midwest Athletic Conference Offensive Player of the Year honors. Before heading to Muncie, Puthoff will represent the South at the annual North-South Game in Columbus. Puthoff's team will be led by this year's Mr. Football and OSU signee Brandon Saine.
The Ball State campus, roughly an hour away from home, caught Puthoff's eye.
"It's not overly big, but it's big enough for me. It's very nice," said Puthoff. "Everything's close together and it's easy to get around."
While Hartke and Puthoff conversed about possibly going to the same school, Puthoff said it wasn't a package deal.
"We talked about it," said Puthoff. "... But we never based it on the both of us going to the same college, no matter what. I am happy that it turned out that way."
With the Cardinals looking to get better after a 5-7 year (5-3 record in the Mid-American Conference) having the experience of playing big games during his days at St. Henry will help Puthoff.
"Playing in all those big games in high school, then going to play in the MAC on the college level, it's going to be big," said Puthoff.
Hartke moving up to linebacker
For Hartke, who earned All-Conference honors at defensive back, he'll move closer to the line of scrimmage for Ball State to play outside linebacker. With his size (6-4, 195 pounds), Hartke's switch to a new position shouldn't be a problem for the all-around athlete.
"I was in the front a little bit (in high school), but it's going to be tougher," said Hartke, who will major in accounting. "It's going to be harder hitting with bigger and faster guys. It's something I'm going to have to get used to."
The defensive side was where Hartke first shined as a sophomore, making 110 tackles with five interceptions in 2004. During his junior season, Hartke became a big threat receiving, making him a potent two-way player in his final two seasons with the Redskins.
In three seasons, Hartke made 85 catches for 1,425 yards and 19 touchdowns. The 2006 season was a sensational season for Hartke, who made 36 snags for 809 yards and 11 scores. Those numbers would have been even bigger, but Hartke missed most of the state semifinal and the state championship game with an injury. Hartke's talent was still recognized as one of the best receivers in the state as the senior earned first team All-Ohio honors.
Defensively, Hartke had 19 career interceptions and 277 tackles.
The closeness of the campus paid a large part in his final decision.
"Me and Andy both thought about that," said Hartke. "It's not that far of a drive home."
Playing at St. Henry and winning two state titles will be great memories for Hartke.
"A lot of people don't even come close to (winning state titles)," said Hartke. "That just reflects how hard we work here in St. Henry and the kind of people we have."
Werling to bring athletic game to Panthers
The 5-11 Werling will retain his role of cornerback for the Panthers, who went 7-3 last season.
"I just really like the campus," said Werling, who plans to study biology. "They have really nice facilities. I thought it was the best fit for me, academically and athletically."
"(The coaches at ODU) have just said 'work hard, work hard,'" continued Werling. "If the opportunity presents itself, I could see some playing time (during his freshman year). That's among the steps along the way. I just have to improve."
Werling broke through as a sophomore in 2004, recording 73 tackles, 15 pass breakups and seven interceptions during the 2004 state title season for the Redskins.
After that, Werling, who earned honorable mention All-Ohio status this past season, had 83 tackles in his final two seasons and six picks per year as the cover-corner in the Redskin secondary.
"It's been incredible playing for coach Starkey," said Werling. "Fortunately for us, we've been put into some situations and won a few state titles. That's all the hard work me and my teammates put in. It's been a fun ride."
The fact that Werling will stay at cornerback has put him at ease.
"It's good knowing that I won't have to change anything," said Werling.