Saturday, March 3rd, 2007
Cisco wrestling for All-Ohio honors
By Gary R. Rasberry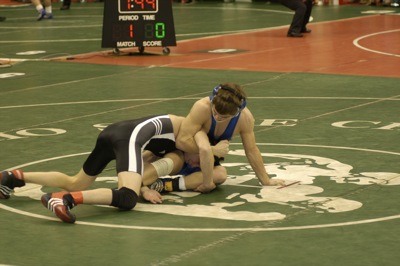 COLUMBUS - In the updated brackets for Division II at the 70th State Wrestling Tournament, it was noted that six wrestlers entered Friday still undefeated on the season.
St. Marys senior Josh Cisco was right at the top with a healthy 33-0 mark, but it didn't take long for the first blemish to show.
But just as fast, Cisco bounced his way back and earned his way to the podium.
By the end of the night, Cisco placed himself in today's Division II 112-pound seventh-place match starting around 11 a.m. at the Schottenstein Center on the campus of The Ohio State University.
In the championship quarterfinal, Cisco faced off with the favorite to be on top of the podium at 112 pounds in Jefferson Area's Kyle Gilchrist.
Cisco could not get his attack going from the start, as Gilchrist posted a 10-1 major decision on the St. Marys grappler to move into Friday night's championship semifinal and ensure an All-Ohio spot going to the top eight.
"It was a rough match," said Cisco. "I knew I had to come back and start from the bottom.
"I didn't move like I should have and made some mistakes."
The loss sent Cisco into the second round of consolations about 90 minutes after his first bout. Cisco had to beat Ravenna's Eric Gray to ensure a top-eight finish and keep his season going.
Cisco wasted little time to get the advantage and rack up the points. By the time the third period ended, Cisco was up 12-5 to ensure that he'll finish at least eighth in the state.
"Now, I just had to be the aggressor," said Cisco.
Where Cisco would finish got a little clearer after his Friday night consolation match, taking on Nate Westfall of Mentor Lake Catholic.
Cisco fell behind early as Westfall went on the offensive. Cisco managed just two escape points and picked up another when Westfall was called for stalling.
Down 5-3 in the final minute of the match, Cisco worked to try and get the takedown that would tie the match, but Westfall kept Cisco at bay to hold on for the 5-3 decision. Cisco will take on Bexley's Jake Weisman in the seventh-place match. Weisman lost his consolation bout to Miami Trace's Jacob Garringer 2-1.
For the Versailles cousins, David and Ethan Oliver, big wins to stay alive on Thursday night could not convert into momentum on Friday afternoon. The pair lost their matches to end their seasons.
David Oliver took on Genoa Area's Kurt Wolfe in a win-or-go-home 171-pound match. Wolfe was in control from the start, posting the 8-0 shutout to end Oliver's season with a 36-12 mark.
Oliver, wrestling his last match, was emotional after his bout.
"I don't know what to do now," said Oliver. "I'm done with wrestling."
Younger cousin Ethan fared just slightly better in his match with D.J. Cummins from Cardington-Lincoln. Cummins posted a 10-6 win to end Oliver's season at 34-12.
"I just got behind early and could not come back," said Ethan Oliver.