Tuesday, May 1st, 2007
Parkway stays in tie for MAC lead with easy win at Versailles
By Gary R. Rasberry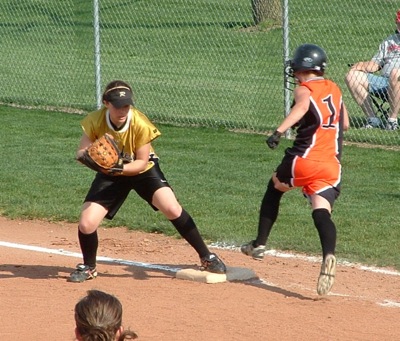 VERSAILLES - Parkway maintained a share of the Midwest Athletic Conference lead in softball as Chelsie O'Neill fired a complete-game shutout as Parkway beat Versailles 6-0 at Lady Tiger Field.
The Panthers improve to 9-4 on the season and 4-0 in the MAC while the Tigers drop to 10-6 overall and 2-3 in the conference.
The Panthers scratched out six hits on the day, and were helped by timely hits coming on hit-and-runs and by walks. Versailles starter Mackenzie Mayer walked seven in the contest and was hampered by four Tiger errors.
The first three runs of the game came via a Mayer walk. Jamie Guggenbiller drew a walk with two outs in the second. With the hit-and-run on, Hannah Beougher doubled deep to left, allowing Guggenbiller to score from first.
A carbon copy came in the third. This time with one out, Courtney Davis walked and took off when Mayer fired to Megan Smith, who belted a double to left, allowing Davis to score making it 2-0.
In the fifth, Parkway scored three times, and started with a one-out walk to Davis, went to second on a steal and, after a rundown that sent her back to second, reached third on a throwing error, Megan Smith hit a shot to short that Karen Smith could not handle, scoring Davis. Smith and Elaine Crowell, who followed with a single, later scored on a double by Guggenbiller.
"Sometimes you get lucky," said Parkway coach Mark Esselstein. "We have kids who are pretty good basestealers and we have some kids who are a lot more confident at the plate than they were earlier this year. We turned them loose. When you have them stealing second and hit a gapper, it's easy to score. We really needed that."
"We're very inconsistent on defense," said Versailles coach Phil Cavin. "We're very inconsistent with the bat. Those first three runs were kids that walked. Then they get a big hit and the run scores."
That was all O'Neill needed. The Parkway sophomore ace scattered three hits and two walks through seven innings. O'Neill certainly did not overpower the Tigers, striking out two, but got 14 groundouts in the game.
"Chelsie did a great job," said Esselstein. "Danielle Schoenleben made a couple of nice pickups at first to keep (Versailles) from getting an inning going. It's a good team win."
"Again, we get some runners on and we're down to the last 6-7 outs. You can't bunt runners over when you're down six," said Cavin.
Schoenleben, coming off a big weekend against Fort Loramie, went 2-for-4 with two runs. Megan Smith and Guggenbiller had two RBI each.
Chelsea Mayer went 2-for-3 to lead Versailles.
Parkway, which was supposed to host Shawnee on Wednesday, will now travel to New Bremen to make up a league game with the Cardinals on Wednesday starting around 4:30 p.m. Versailles plays Bradford at 4:15 p.m. on Wednesday.