Monday, June 4th, 2007
Locals finish strong at state track meet
By Bruce Monnin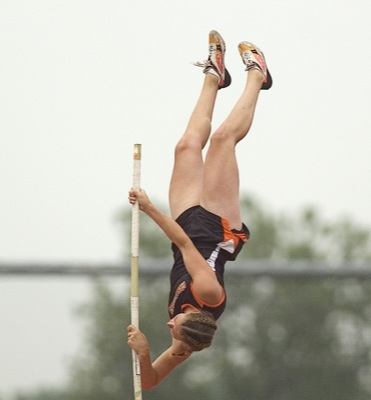 COLUMBUS - Team championships were not expected for area teams Saturday at the state track meet, though a couple of runs were made at the team standings as the highest placing local teams were the Versailles girls who finished third and Parkway who finished sixth on the boys' side. In addition, many individuals and relay teams from the area managed to reach the podium of top eight finishers at Saturday's finals portion of the state track meet.
The state track meet is an interesting combination of underclassmen expressing hope for improvement in future years and seniors acknowledging the end of their high school careers and wishing their could have achieved more. Both sentiments were expressed often Saturday.
Celina
Julie Snyder of Celina was the only area athlete to make the podium in the Division I meet, finishing sixth in the long jump. Her initial jump of 17 feet, 21/4 inches was good enough for sixth place after round one. Her second-round jump of 17-101/2 kept her up in sixth place, but in the third round, two other competitors went farther, dropping Snyder to eighth place and just barely qualifying her to the final three rounds.
Snyder's best jump came in the fourth round, a leap of 18- 23/4 which catapulted her into fourth place. Eventually, two other jumpers passed her in the standings, leaving Snyder in sixth place.
"Today I set my personal best and broke my own school record again," said Snyder. "Finals came, and I ripped one out. It was good."
Julie also ran in the 300-meter hurdles and was part of the 4x400 relay team on Friday, neither of which made the podium.
"My 300 hurdles were a little slow," admitted Snyder. "Our 4x400 could have went faster."
As a junior, she's getting to be an old hand at the state meet. "The crowds really don't affect me anymore," said Snyder. "My freshman year, they really freaked me out, though."
Versailles
The Versailles girls used a quality weekend from all their state participants to finish third in the overall team standings. They started off on the right foot Friday when their 4x800 relay cut over 10 seconds off their regional time to place second.
The Lady Tigers team hopes took a rise when freshman Megan Campbell went two inches higher in the high jump than she had at regionals, thus securing a tie for third place and an unexpected 51/2 points.
The trend continued when sophomore Mary Prakel bettered her regional time in the 1,600-meter run by over three seconds to place fourth in that event. Another sophomore, Mindy Henry, then finished seventh in the 800-meter run.
But the star for Versailles was senior pole vaulter Amanda Barlage. A heavy favorite coming in, her competition was stiffer than expected, and she missed her first attempt at 11 feet while one of her competitors cleared it.
"I was thinking a little too much about the state championship instead of just vaulting," admitted Barlage.
Barlage eventually needed to clear 11-8 to claim victory in the event. By this time, all the running events were finished, and the remaining crowd had gathered around to watch Barlage try to set some records.
The first record to fall was the state-meet record. The bar was raised to 12 foot and on her first attempt she scraped the bar, causing it to bounce up and then settle back on its supports.
But the mark Barlage really wanted was 12-4. After she missed her first two attempts, the third time was a charm and another goal reached for Barlage.
"I've been waiting all season for this meet," stated Barlage. "I wanted that 12-4 really bad. After I won it, there was a lot of hugs and excitement, but I knew I still wanted that 12-4."
St. Henry
The Redskins were the busiest local team Saturday, as it seemed there was a constant stream of St. Henry athletes on the track.
First up was the long jump, where Patrick Reichert was one of the favorites as his best jump on the year had been 22-3. Reichert had beaten Parkway's Jacob Fox at districts and regionals, but Fox outjumped him this week and left the Redskin long-jumper in third place.
"Last year Jacob was always on top, but I finally started competing with him this year," explained Reichert.
Reichert seemed most disappointed that he just missed second place by one inch.
"21-11 was my last jump, and 22 feet was in second place. I was pretty disappointed I couldn't get that extra inch."
The Redskins' first running event was the girls' 4x200 relay that earned fourth place. Carmen Moorman, Carla Nietfeld and Catie Evers were all part of the team, but it may have been most special to senior lead-off runner Christie Denton who earned her first trip to the podium in the race.
"We were a little disappointed because we were sitting second going into the race (based on times in the preliminaries)," said Denton, who appeared anything but disappointed. "I think it's going to hit us pretty soon that fourth place is still pretty freaking awesome. This memory is going to last a lifetime."
Next up was the boys' 4x200 relay, where the team of Reichert and seniors Matt Thobe, Ryan Lefeld and Ryan Huwer placed seventh. Thobe was forced to lead off the race in the outside lane, often thought to be a disadvantage since you start in front of all your competitors and can't see them as you run.
"I think we've been in lane eight almost every race," said Thobe. "It was like 'All right boys, this is nothing new, we've been here before.' All we could do was just run and hope we could place high."
One of the three seniors on the squad, Ryan Lefeld was reflective after the race.
"It was our best time. We have a great group of guys here, I wouldn't want to run with anybody else," added Lefeld. "It's been a great year and a fun time with these guys. I'm really going to miss it."
Evers was next up in the 400-meter dash. The senior finished fourth in this event last year, but trimmed 0.63 seconds off last year's time and improved to third place this year. Evers was one of several area performers who did not benefit from the photo finish on the day, as she finished just 0.01 seconds out of second place.
St. Henry had medal winners in both of the 200-meter dashes. Carmen Moorman earned her first trip to the podium as an individual with her eighth-place finish.
"It feels just amazing," described Moorman. "I really hope I can come back next year. It's really amazing standing up there and thinking I may have two more years of this."
For the boys, it was the last hurrah for senior Ryan Huwer who started out his race strong. "My coach said my start yesterday was pretty sloppy," admitted Huwer, "but I feel I had a little better start today."
Huwer came down the front stretch in fifth place, but a late burst of speed allowed him to move up to a third-place finish.
"I felt an extra burst of energy there (passing people at the finish), I don't know what happened," said Huwer. "I guess God was with me and helped me finish strong. It was kind of sad, being my last race, so I had to make it a good one."
To wrap up the day for the Redskins, the girls' 4x400 relay team of Denton, Moorman, Beth Hemmelgarn and Evers reached the podium by finishing eighth.
Parkway
While hearing about Fox's wins in the long jump and the 110-meter hurdles, as well as his fourth in the 300-meter hurdles, a coach from another team commented "That's the forte of Parkway, long jump and hurdles."
Sophomore Marian Bevington drove home the point with a seventh-place finish in the long jump and by placing a better than expected fourth in the 100-meter hurdles.
"I liked being on the podium," admitted a happy Bevington after her hurdles race.
She wasn't quite as happy with her result in the long jump, which was a foot shorter than her personal record.
"Today I wasn't really focused for long jump and I didn't do so well."
New Bremen
Bryce Bergman continued his season-long competition with Fox, and once again both runners benefited. Bergman placed third in the 110-meter hurdles, coming in just behind Parkway's Fox and Waynesfield's Gray Horn.
However, in the 300-meter hurdles, it appeared Bergman was determined to win the event. He seemed to have a personal vendetta against the hurdles, as he seemed to hit them all.
"I was struggling a bit, as I hit every one of the last three hurdles," confirmed Bergman.
Bergman appeared to have a slight lead over Columbus Grove's Heath Nickles as he crashed through the final hurdle. As the results were first shown on the track's big screen, Bergman's name was not listed in the top seven.
"I thought I was actually disqualified at first for the step or two I took over the last hurdle," explained Bergman. "I was a little scared about that."
Eventually, Bergman was awarded the same time as Nickles. Though Nickles was awarded the victory after the photo at the finish line was examined (this reporter's heavily-biased opinion was that Bergman took him at the line).
Though he had wanted the win, he was extremely happy with the day.
"I knocked about a half a second off my best time at the state meet alone," stated Bergman. "I'm ecstatic. I can't complain with a second and third. I came out and did my best, and everybody here did a great job."
The Cardinal girls' 4x400 relay team of Christine Schwartz, Lori Timmerman, Amber Niekamp and Taylor Jones rounded out the day. They consistently ran in the middle of the field and finished the race in fourth place, improving on last year's fifth-place finish and lowering last year's time by almost two seconds. As is often the case, the seniors on the squad were hoping for more.
"Our time went up a bit from regionals," noted Schwartz. "But overall we improved from last year."
Niekamp sounded a similar tone.
"I think we're all going to be proud of what we did, but I wasn't happy with fourth. It's an amazing feeling (to be on the podium at state), but we didn't run our personal record, which doesn't make sense to me."
Fort Recovery
The Indians had two athletes both peaking at the state meet. Junior pole vaulter Matt Vagedes finished third overall, setting a personal record of 14-4. His former personal best of 13-8 was the old school record.
Vagedes seems to have benefited in recent weeks from an upgrade in his equipment.
"I've been getting new poles and getting used to them," offered Vagedes. "This last pole I used, I only had two days of practice on it. If I could have another week or two, I think I could clear 15 feet."
Senior Holly Stein also set a personal best, career best and school record in the discus with a seventh-place throw of 125-8. This was also 10 feet further than she threw at the regional meet last week. But as a senior, she still thought she could do better.
"In practice I have been throwing really well", explained Stein. "It wasn't what I wanted, but I trained forever with not throwing well at all, so throwing 125 feet was just fine."
Minster
Besides Friday's fourth-place finish by their 4x800 relay team, Bernadette Burke was the lone scorer for the Lady Wildcat's this year. Burke improved her time from last week's regionals by 13 seconds to help finish in fifth place, a fact that pleased her.
Burke led the race early, but said that wasn't necessarily her strategy.
"I just go out and wherever I am, I am," explained Burke. "I try to just go with how I feel."
Teammate Lei Bornhorst tried to follow Burke, and ran in second place for awhile before falling out of contention.
"She's a determined runner. I'm so proud of her," said Burke. "I'm glad she came here with me."
When asked if they might finish 1-2 next year, Burke hesitated, then grinned.
"Everyone tries to be first, but if we would, I'm not sure who would be one and who would be two."
Andrew Meyer threw for Minster in both the shot put and the discus. He was the favorite in the shot put, but shockingly fouled on all three of his throws.
"Coming into this meet I felt very confident. My practice throws were better than I ever had (one practice throw went past the sign for the current state meet record). I was very disappointed."
Meyer only had a couple of hours to gather his emotions and compete in the discus. It would have been easy to fold in this event, but instead Meyer placed sixth to get his podium spot in the less likely event.
"I didn't do as well in discus as I wanted to, but I did get on the podium. It's good to get a medal," said Meyer. "I did nothing but non-stop work this year, and I think that's why I am so upset that I didn't do well. It didn't end right, but overall my senior year was very good."
Marion Local
One last area medal winner was Marion Local junior Kathy Dirksen, who finished eighth in the shot put. She had been slowly increasing her throws throughout the season.
"I'm glad I could consistently go farther," said Dirksen. "I worked a lot in the summer to try and get higher results."
When asked what she might do with the medal, she admitted, "I have a little collection on the wall. It will go up there."