Thursday, June 7th, 2007
Edwards shows his dirt-track prowess at Eldora
By Jim Morrison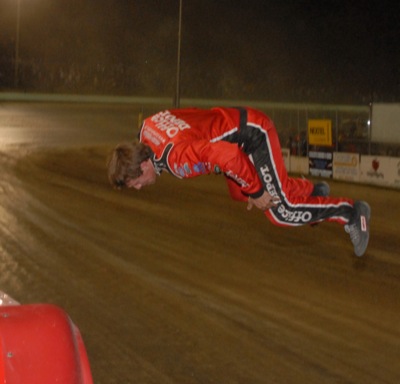 ROSSBURG - Carl Edwards fought off multi-time NASCAR points champion Jeff Gordon and a late challenge from Kyle Busch to win the third annual Prelude to the Dream at Eldora Speedway on Wednesday night.
The win in the all-star race event, featuring 26 drivers from NASCAR and other forms of motorsports, gave Edwards his first victory at the famed half-mile track in West Central Ohio.
"That is unbelievable," Edwards said in victory lane.
Winning the Prelude felt as good to Edwards as winning a NEXTEL Cup race.
"It doesn't matter what kind of car it is," said Edwards. "It is the competition and the way you win the race. They (wins) are all great. That is as good as it gets right there."
Edwards drove a car owned by Stacy Holmes, who Edwards drove for previously at the Talladega Short Track. Believing it was one of the best cars he had driven, Edwards contacted Holmes after he was invited to compete in this year's Prelude. A new car was built by Terry Rice for Edwards to run at Eldora.
Gordon was making his first start on a dirt track since 1991. He first raced there in the late 1980s when just 15-years-old, but was quickly advised to get more experience before returning.
Gordon won in his last appearance on dirt before joining the NASCAR circuit and it looked for a while Wednesday night that his return might end the same way. He traded slide jobs - a technique of dropping low on the track and attempting to slide his car up in front of a competitor - with Edwards throughout the 30-lap race.
"I had the car," said Gordon about the handling of his car. "… It was so hooked up, I was having a blast out there. It was so much fun to compete with guys like Carl and Tony (Stewart) and (Ken) Schrader. Even Kyle Busch was awesome at the end there."
Gordon said he made a mistake by trying the bottom groove next to the inside wall rather than running in the middle of the track.
Busch said many contend that he and his brother, Kurt, are good at making cars run on asphalt, but it was not only his first time on dirt, it was his first time in this type of car.
"I had fun with it," said Busch, adding he hopes Stewart invites him again next year. "It is cool. It is definitely one of the neatest dirt race tracks I have ever been to."
Juan Pablo Montoya, a former Formula One racer who won the Indianapolis 500 in 2000, made his first appearance ever at Eldora Speedway. He even needed Tony Stewart to show him how to shift gears before taking to the track for a practice session.
Montoya had only six laps of practice before qualifying and finished 15th in the feature after starting 24th.
"It was surprisingly comfortable," said Montoya. "I started getting cocky and getting the car sideways."
Montoya said he learned from the people he was running with on the track.
"If they go in and the car sticks you want to go in a bit faster," said Montoya. "If it sticks then you pick up the pace."
Stewart gave Montoya good marks, saying that after only four laps he was getting the hang of driving a late model on dirt.
"He didn't look like a rookie out there at all," said Stewart.
Proceeds from the race benefit the Victory Junction Gang Camp, which was founded by the Petty Family following the death of fourth-generation racer Adam Petty. The camp serves children with special health needs. Drivers donate their time and winnings to the camp, as does the management at Eldora Speedway.
All seats were sold for Wednesday night's race and the event was broadcast on HBO as a pay-per-view program.
Stewart created the event after purchasing the track. It has sold out each year and attracts more drivers each time.
After racing in Dover, Del., on Monday, Stewart spent five and a half hours on a tractor Tuesday helping to work the track. That was a small amount of time compared to the effort his staff put in organizing the event.
One of the biggest pleasures Stewart receives from the NEXTEL Prelude to the Dream Presented by Old Spice is the smiles seen among the drivers competing. An environment is created in which they can relax and enjoy themselves, said Stewart. They only thing a driver must worry about is getting his car ready to race.
"It is fun to get to come back and do something like this where we don't have pressure," said Stewart. "We all get to walk around and talk to each other."
Stewart admits to being somewhat of a "mother hen" trying to make certain everyone is having a good time and comfortable in their cars. He wants to see them smile.
"To see Jeff (Gordon) get out of his car after the first hot-lap session with a smile on his face, it was worth the whole five and a half hours on a tractor yesterday trying to get the track ready and help out."
The Prelude to the Dream exposes short-track racing to a group of fans accustomed to the "cookie cutter" mile-and-a-half tracks and the restrictor-plate events they normally see, according to Stewart. It also showcases the talents of many of the NASCAR drivers.
"These guys didn't just show up all of a sudden," said Stewart. "They ran at Eldora. They ran at Monaco. They ran at other places to get to NASCAR. A night like tonight showcases why they got where they are and why they got their opportunities.
"I've raced here all of my life and I got my butt kicked tonight by guys who have only raced here two or three times."
Stewart, who won last year's race, finished 22nd after becoming involved in an accident with several other cars.
Barnie Craig won the Eldora Advanced Auto Parts Stock feature while Scott Orr won the UMP Modified feature.

NEXTEL Prelude to the Dream Presented by Old Spice
1. Carl Edwards, 2. Kyle Busch, 3. Jeff Gordon, 4. Ken Scrader, 5. Clint Bowyer, 6. Kasey Kahne, 7. Matt Kenseth, 8. J.J. Yeley, 9. David Reutiman, 10. Mark Martin, 11. Aric Almirola, 12. Dave Blaney, 13. Kenny Wallace, 14. Kevin Harvick, 15. Juan Pablo Montoya, 16. Denny Hamlin, 17. Red Farmer, 18. Ryan Newman, 19. Cruz Pedregon, 20. Mike Wallace, 21. Bobby Labonte, 22. Tony Stewart, 23. Ray Evernham, 24. Ron Capps. Elliott Sadler and Bill Elliott did not start.