Wednesday, September 5th, 2007
New Bremen volleyball off to strong start at 5-1
By Mark Ruschau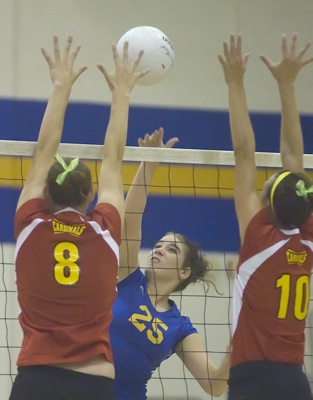 ST. MARYS -The New Bremen Cardinal volleyball team continued its early season winning ways Tuesday night going on the road, overcoming a sluggish performance, but still coming home with a 25-16, 25-21, 25-16 nonleague match win over Auglaize County rival St. Marys at Cook Gymnasium.
With the win, New Bremen improves to 5-1 while St. Marys falls to 1-5.
"After a holiday on Monday, the game on the Tuesday after is always tough," said New Bremen coach Lisa Thobe. "The girls are tired from the long weekend and having the extra day off and I'm pleased with the way we played tonight. I was concerned with playing them, they took New Knoxville to five games and I had no idea what they had. Coach (Tricia) Naseman has some girls that can hit the ball, and they had made great strides from where they were last year and I am glad to get out of here with a win."
The numbers show the inconsistency and sluggishness of the play of the Cardinals. New Bremen gave up 24 points on hitting errors and an additional 10 points on service errors. On the positive side, the Cardinals held the Roughriders to just 13 kills and three blocks.
"Our intensity was there all night long, even at the beginning of the match," said St. Marys coach Tricia Naseman. "I think we should of picked things up but we didn't and I thought we just played an average game, nothing was great, nothing was terrible, it was just average for the entire game.
"I think our problem right now is consistency," continued Naseman. "We are up and down, up and down. We would score four points and then we would let them score four points. Our consistency is not there, especially in our serve receive and in just getting the ball back over the net, it's just not there yet."
St. Marys returns to action on Thursday night playing host to Grand Lake rival Celina in Western Buckeye League play. New Bremen is also in action on Thursday hosting Coldwater in Midwest Athletic Conference action.