Saturday, September 8th, 2007
Two swim for their lives when boat overturns
By William Kincaid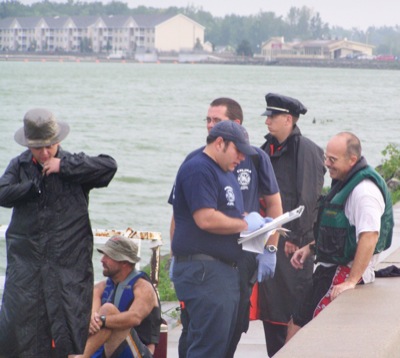 Two out-of-state visitors found themselves submerged in Grand Lake's murky water on Friday night after their sailboat capsized during rough weather.
According to Grand Lake St. Marys State Park Manager Craig Morton, two men - whose names he did not release - from Decatur, Ind. were sailing on the lake near Carter Villa Restaurant, 725 West Bank Road, Celina, when their boat tipped over after being hit by a strong wave. The mast of the sailboat landed in the mud, he said.
The two men, both of whom were wearing lifejackets, began to swim toward shore through strong rain and wind. A patron at the restaurant reportedly called the Mercer County Sheriff's Department explaining the situation.
Officials from the Mercer County Sheriff's Department, as well as the Celina Police Department and Celina Fire Department's EMS squad, arrived on the scene around 7 p.m. But both men had already made it to shore unassisted.
Morton said the two men were unharmed. Also, their boat did not incur any damage and was towed away.