Thursday, November 1st, 2007
Driver injured in Wednesday accident
By Margie Wuebker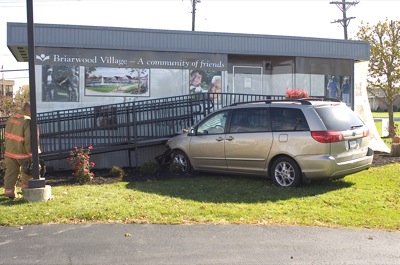 A Celina-area motorist was injured Wednesday when he drove across the 800 block of South Main Street (state Route 219) and struck a mobile office at Briarwood Manor Nursing Home in Coldwater.
Robert L. Froning, 70, 7001 Cottonwood Road, Lot 105, had stopped his northbound 2006 Toyota northbound on South Woodview Drive at noon and then traveled through the intersection. A witness reported Froning was slumped over the wheel at the stop sign.
According to Coldwater Police reports, the Froning vehicle traveled left of center on Main Street before driving over a sidewalk and continuing through the lawn at the nursing home. The car initially struck landscaping blocks around the Briarwood sign and then a mobile office structure used to promote the proposed Briarwood Village project. The report indicated the car traveled a distance of 263 feet after leaving the pavement.
There was no one in the modular trailer, which was moved from its foundation upon impact. However, a witness indicated someone had left just moments before.
Froning was taken by ambulance to Mercer County Community Hospital in Coldwater. A nursing supervisor reported his name was not on the inpatient census this morning.
The heavily damaged car was towed from the scene.