Tuesday, December 4th, 2007
Defense carries Blue Jays past 'Riders
By Gary R. Rasberry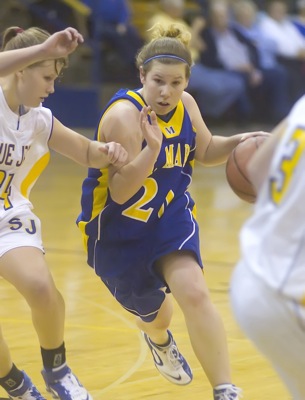 DELPHOS - Both St. Marys and St. John's brought plenty of defense to their matchup on Monday night, but a slight drop off by the Roughriders allowed the Blue Jays to extend a lead and come away with a 39-23 win at Robert A. Arnzen Gymnasium in Delphos.
The loss is the first of the season for St. Marys (3-1) while the Blue Jays, the Division III state runners-up from last year, improve to 4-1.
The first half was a solid defensive half. The Blue Jays led 9-8 after the first quarter and were only ahead 13-11 at the half. The teams were a combined 8-of-30 shooting (26.7 percent).
"We weren't unhappy with our first-half effort," said St. Marys coach Tim Niekamp, "I felt we defended (St. John's) well. We struggled a bit offensively and were a bit methodical."
"Both teams' defense was kind of taking away any offensive flow that you could get," said Blue Jays coach Dan Grothouse. "Even when you thought you had some offensive flow, the shots weren't going down for either team."
St. Marys tied the game to start the second half on a Emily Shellabarger bucket with 6:21 left in the quarter, but it would be just over 51/2 minutes before the Roughriders would add points to their side of the scoreboard.
That allowed the Blue Jays to step up. Sarah Clark put St. John's up for good with a three-pointer with 5:36 left. Then after a trading of scoreless possessions, Clark drove the lane, got fouled and made the bucket. The conversion of the old-fashioned three-point play made it 19-13.
"We were fortunate in the second half to make a little bit of a run," said Grothouse. "We got a big three out of Sarah, then got another big shot. ... That was kind of our intention, in the second half, maybe to get down low to Lindsay Reindel to see if we could put pressure on their big kids."
Zefiryn Bryan added a bucket with 3:21 to make it 21-13 before Shellabarger snapped the Roughriders' cold spell with 1:47 left in the quarter, but six points was all the closer the Roughriders would get the rest of the day.
"We knew what we wanted to do in the second half. We knew how we wanted to execute, where we wanted to get the ball. We just couldn't get it done," said Niekamp. "Delphos played strong defense, but we didn't help ourselves with our spacing and our cutting and our screening. I was just very disappointed in our execution that second half, offensively."
Bryan paced the Blue Jays with 12 points while Clark added 11 points and seven rebounds.
Shellabarger was the only Roughrider in double figures with 12 and Erika Thornsberry added seven points.
St. Marys hosts Bath in Western Buckeye League action on Thursday while St. John's remains at Arnzen Gymnasium to host St. Henry in Midwest Athletic Conference action.