Saturday, January 5th, 2008
Ireland based company purchases Accutech Films, Inc.
By William Kincaid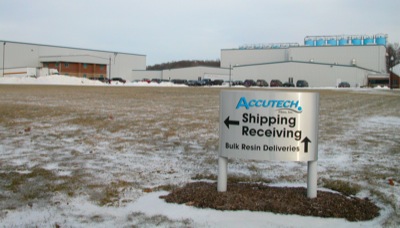 COLDWATER - Accutech Films, Inc. has been purchased by international conglomerate Clondalkin Group, a move CEO Nick Ruchty says will allow the Coldwater business to retain its name, workforce and identity, while significantly increasing productivity.
"Accutech had the aspiration to grow the company to another level," Ruchty told the newspaper on Friday afternoon while announcing the takeover deal.
Accutech, 620 Hardin Street, is a manufacturer of film products that currently employs 105 people. He expects the company to double in size in five years with an additional building and between 30 to 60 new employees.
Ruchty, who founded Accutech in 1997 with partner Bill Barga, said the entire business, including the real estate, was sold to Clondalkin, which is based in Ireland with U.S. headquarters in Philadelphia. Ruchty said he will stay at Accutech as the CEO while Barga has left to pursue other personal interests.
The transaction will allow Accutech to expand its sales in various international markets, where Ruchty said there is an annual growth rate of 20 percent for its products.
"You don't want to loose that momentum once you have it going," Ruchty said about growth in its markets, which include Asia, South Africa, England and Taiwan.
Ruchty emphasized Accutech's name, structure and presence in Coldwater will remain the same, but with a newfound ability to grow. He said its employees will continue to work with the same benefits.
"We wanted to maintain the image," he said about searching for outside interest over a year ago. Seventy companies initially responded. "It was critical they knew our business."
Clondalkin Director of Development Paul Hogan also echoed Ruchty's sentiments.
"It's a change in ownership, nothing more," he told the newspaper on Friday before pointing out Accutech has a reputation second to none in the market.
Hogan said he was impressed with the quality of the business and its innovation; but most importantly, he said he was impressed with the people who work there.
Clondalkin Group is a specialist converter of packaging and printed products and is comprised of many companies in North America and Europe.
Ruchty said Clondalkin has $1 billion in annual sales through its world-wide operations and has around 4,000 employees. He also said Clondalkin will be able to invest in future equipment and facilities at Accutech - doubling the company's output.
Ruchty said the Coldwater Village Administration - notably Eric Thomas - and Mercer County Economic Development Director Larry Stelzer, who helped secure business loans, were vital to the transaction.
Also, Ruchty praised former partner Barga, pointing out that he was a key instrument to the growth of the business that started in a cornfield in Coldwater and transformed into an operation with three buildings, two offices and over 100 employees.
"We developed some ... relationships with some key customers who have remained loyal with us through the years," he said when asked about the company's growth.