Saturday, April 5th, 2008
Celina makes it look easy vs. Bath
By Gary R. Rasberry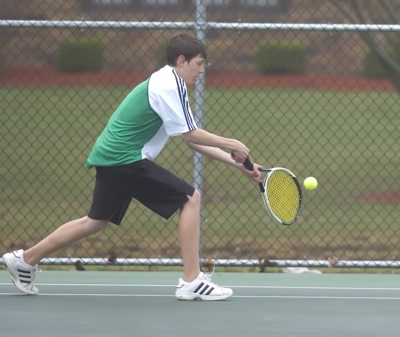 One thing is for certain, the Celina boys tennis team is a determined bunch.
After rain most of the day, and a steady mist going on during the action, the NetDogs dried the High School Courts the best they could and took on Bath in the Western Buckeye League opener for both teams.
The work paid off as Celina swept the Wildcats 5-0, winning all the matches in straight sets with not one Celina spot giving up more than two games in a set or three in a match.
"I guess I'd feel better for Bath and Celina if we had the kind of weather that would have been a better challenge for both of us," said Celina assistant coach Ralph Stelzer, who was pinch-hitting for head coach Jan Morrison on Friday. "Our kids played and gutted it out in this weather. Hopefully, Bath isn't that disappointed in how the conditions ended up, because it wasn't a good night for tennis.
"We get into the season, during the month of April, we're playing 15 of the 30 days, with (some) Saturdays and definitely Sundays off. We got to try and get it in. I was victim of bad weather reports. The weather was supposed to be through here, but obviously it was not."
Once the matches got going, Celina was in control. Kyle Miller had little trouble beating Alex Lauf in first singles with matching 6-1 sets.
In second singles, Adam Turner won 6-2 in the opening set against Ryan Bailey before snagging the second set 6-1.
Craig Everman posted the only shutout set of the day, blanking Nate Shepler 6-0 in the first set before taking third singles with a 6-1 second set.
The doubles teams for Celina were just as dominant. Celina's Jay McKirnan and Tyler Everman beat Faiz Rizivi 6-1, 6-2 with Bryan Robbins and Ryan Rutschilling completing the series sweep with matching 6-1 set wins.
"We'll take a victory when we can get it, especially in all straight sets. It's pretty worthwhile," said Stelzer
Celina, now 2-1 on the season, is back in action this morning, traveling to the Lima Invitational at the Collett Street Courts. The NetDogs are back at home on Monday, facing Lehman in non-league action before traveling to Ottawa-Glandorf for a WBL tilt on Tuesday.