Tuesday, July 1st, 2008
Redskins tune up for sectional with victory
By Gary R. Rasberry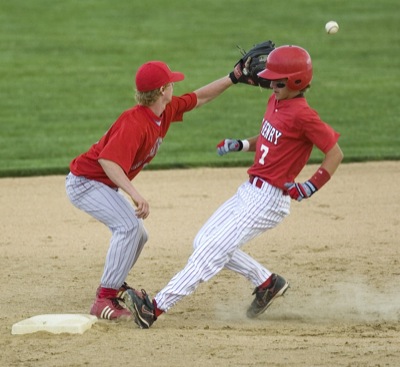 ST. HENRY - As tuneups go, Monday's game was a good one for St. Henry.
Getting one last game in before ACME sectional play begins tonight, the Redskins put together a solid game, beating New Knoxville 11-0 in five innings at the Wally Post Athletic Complex, finishing the regular season at 10-12, capping off a great run of six wins in the final week of the season.
St. Henry belted 10 hits off three Ranger pitchers, six of them going for extra bases, and three Redskin pitchers combined on a two-hitter.
"We did what we wanted to do tonight," said St. Henry coach Joe Wourms. "We put our bat on the ball pretty good tonight. We got some good swings."
St. Henry got started with two runs in the bottom of the first, both coming on defensive miscues by the Rangers. Jordan Post came in when Nick Rindler reached on an error. Rindler later scored on a passed ball.
After adding two more in the second on Cory Siefring's two-run home run, scoring Zach Fishbaugh ahead of him, the Redskins put the game away with a seven-run third. St. Henry sent 11 batters to the plate, with the first five reaching on base hits. Fishbaugh had the big hit with a two-run double, with Rindler helping out with an RBI triple.
Fishbaugh went 2-for-2 with two runs scored and two RBI. Brad Kremer went 2-for-2. Rindler and Cory Siefring joined Fishbaugh in driving in two runs.
That was more than enough for the trio of Redskin pitchers that got some mound time to prepare for tournament. Jason Poling earned the win by starting and throwing two innings of one-hit baseball. Rindler added two innings of hitless baseball before giving way to Fishbaugh in the top of the fifth. Fishbaugh made things interesting, walking two batters and hitting another to load the bases with one out before enticing a grounder to Kremer at shortstop, who stepped on second and threw to first for the game-ending double play.
"Pitching looked pretty good too," said Wourms. "We shut them out, which is always good to see."
While New Knoxville used a 12-player batting order and made several changes, St. Henry stayed focused and did not make too many lineup changes, keeping everyone in their normal spots in the lineup.
"We wanted to be focused tonight," said Wourms. "We didn't want to take anything lightly because with a big tournament game tomorrow against Fort Recovery, we know they're going to give us their best and bring their best. We wanted to go into the tournament the right way."
St. Henry opens the Mercer County ACME sectional tonight on their home diamond against the Indians at 6 p.m. The nightcap of the evening pits Parkway and Marion Local, who split their season series, at approximately 8:15 p.m.