Tuesday, July 8th, 2008
Getting Fort history organized
By William Kincaid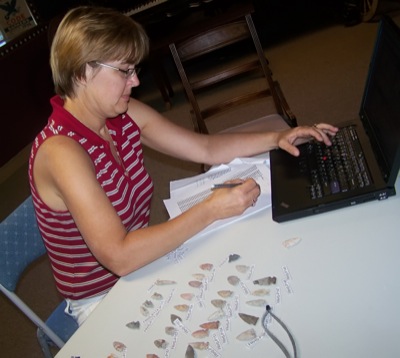 FORT RECOVERY - A summer intern and computer technology are helping the Fort Recovery Historical Society (FRHS) embark on a comprehensive organization of prehistoric artifacts.
Former village resident and Ball State University archeology graduate student Chris Keller is leading an initiative to electronically inventory all of the Fort Recovery Museum's prehistoric artifacts, including arrowheads, pestles (grinding tools), pendants, gorgets (an article that covered the throat), beads and other items.
Using a computer software program called PastPerfect - purchased by the historical society - Keller inputs an image and various information of each museum artifact. PastPerfect then catalogues and manages the artifact information.
Although attempts were made in the past to identify and organize the museum's extensive collection, there has never been a single, consolidated electronic log of the items.
"To me, this is an ongoing project," said Keller, whose 10-week internship ends July 24.
Keller said her work isn't just about loading information on the computer and leaving, she's teaching others how to use the program when she's gone.
Keller believes there are many practical applications of the computer program besides the obvious convenience of having a unified electronic inventory.
Portions of the finished inventory could be uploaded on the museum's Web site to inform the public or entice others to make a visit to the museum. The info also could be printed out and presented in a binder for visitors or used for programs with local schools.
Museum Director Nancy Knapke, who previously worked with Keller when the two were employed at Fort Recovery schools, said the historical society members and museum trustees are thrilled with the intern's work.
"Not only could she bring her new technical skills and knowledge of an archaeologist, but with her background in technology, she could really impact the way we do things at the museum and that has certainly come to pass," Knapke said.
Knapke also said the museum was allocated $100,000 by the Ohio legislature and the Ohio Historical Society last year for updates.
"Through her interest, knowledge and internship, Chris has become a driving force in the grand scheme of plans for that renovation," Knapke said.
Keller is working on many display changes, such as replacing a timeline map with 16-by-32 inch panels to be placed above the corresponding artifacts. She also is posting fun facts near the artifacts to help engage visiting students and children.
"Things are really moving now at our museum," Knapke said. "She is revamping the displays in our upstairs and will make that area so much more informative and educational for visitors and school tours."
Keller said she also is considering removing guns from a nearby display case to make room for the museum's prized collection: a series of ancient gorgets, birdstones and beads found locally.
"Chris is bringing to our organizations and to our efforts a breath of fresh air, invigorating ideas, efficient and effective work, enthusiasm that motivates and expectations that keep everyone on their toes," Knapke said.