Wednesday, December 3rd, 2008
Two bombs found in St. Marys; arrest made
Explosives found at St. Marys service station and on local 18-year-old as police apprehend at his residence
By Janie Southard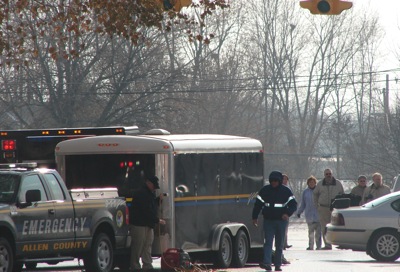 ST. MARYS - The Marathon gas station on South Street was the focus of area emergency personnel Tuesday morning after a homemade bomb was found near a gasoline pump. Following the arrest of a local man, a second bomb was discovered on his person.
St. Marys resident Jesse B. McDermitt, 18, who was convicted in 2006 for taking explosives and knives to school in Wapakoneta, was arrested following a search of his apartment where "numerous items of evidentiary value" were found, according to St. Marys Police Chief Greg Foxhoven.
McDermitt, who later admitted to placing the bomb at the station, was identified via the surveillance camera, Foxhoven said.
"During the pat down (of McDermitt), the second explosive device fell from his shirt ... Both bombs were dismantled and no one was injured," the chief said Tuesday afternoon. "McDermitt is currently in the county jail and we have forwarded all information to the county prosecutor, Ed Pierce."
Just before 8 a.m., a Marathon customer found a book bag beside one of the gasoline pumps just after a group of students had left the station for Memorial High School, which is less than a block away.
A station employee said it's almost routine for one or another student to leave a book bag behind.
"We let it sit by the door for a while so the kid would see it, but when no one showed up in almost an hour, we opened it looking for I.D.," the employee said.
When they discovered a mass of wires and two liters of fluid inside the bag, they quickly deduced it was some kind of bomb and called the St. Marys police.
"We got the call at 9:12 a.m. and dispatched an officer who evaluated the scene. We notified the Lima Allen County Regional Bomb Squad and roped off a 300-foot safe area, which included evacuating the station and the buildings on Front Street," Foxhoven said.
Around 11 a.m. the first bomb was dismantled by the Lima team causing a loud noise and a chemical-type odor.
"The small explosion is part of the dismantling procedure and was expected. The bomb did not go off," the chief said.
School district Superintendent Mary Riepenhoff said the high school and junior high school building were put under lockdown at about 10 a.m., and a sweep of the building found nothing suspicious.
"Students saw the Lima bomb squad going past the school, and we told them officials were planning to detonate a bomb," she said.
There was no damage to the gasoline station and authorities would not speculate how much damage could have occurred had the device gone off.
"The state fire marshall has elements of the device for study. Only then could we speculate what effect there would have been had it gone off. In fact, only then can we know if it would have exploded," Foxhoven said.
He added that McDermitt was "obviously looking for the greatest effect."
McDermitt said at the time of the 2006 incident at Wapakoneta High School that he took the various weapons to school because other students made fun of him. He was convicted on eight counts of illegal conveyance of dangerous ordnance, which were felony charges, and one count each of carrying a concealed weapon and aggravated menacing, both misdemeanors.
Wapakoneta Police Chief David Webb commented this morning that "it seems not much has changed."
Foxhoven said his department was assisted by the FBI, Bureau of Alcohol, Tobacco and Firearms, Auglaize County Sheriff's Department, the Ohio State Highway Patrol, St. Marys General Services Department and the St. Marys Fire Department.