Friday, February 6th, 2009
New Bremen makes it look easy against St. John's
By Mark Ruschau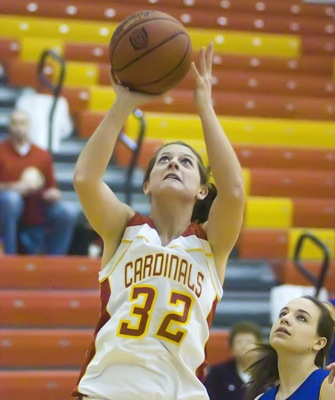 The third-ranked Cardinals, winners of 12 in a row, improve to 16-1 overall and, more importantly, they move into a tie for first place in the conference in the loss column with the Blue Jays and Fort Recovery with a 6-1 mark. St. John's, ranked fourth in the state poll, suffered its first loss in the conference to drop to 5-1 in the MAC and 13-3 overall.
"We did not expect this type of game against a great St. John's team," said New Bremen coach Dave McFeely. "We played a great team and we have a feeling that we will see them again, but we were played well and it is a nice win."
While there are folks that say statistics lie, one look at the box score shows the start-to-finish domination of this game by New Bremen.
On the offensive end, New Bremen had one of its best performances of the season as the Cardinals ran their motion offense to perfection. New Bremen took just 25 shots in the game, hitting on 15 of them for 60 percent and turned the ball over just 10 times, three of which were illegal screens.
The Cardinals' 42 points came in just 37 offensive possessions. Of their 15 baskets, New Bremen recorded assists on 11 of them.
New Bremen showed great balance as seven players dented the scoring column. LeAnn Topp led the way with 11 points.
"What we really want to do is get out and run, but when we get into the halfcourt, we want to be patient with the ball, move the ball, take our time, put pressure on the defense and hopefully that will result in a defensive breakdown," said McFeely. "I have six seniors on this team and they have played together for a long time, they believe in each other and what we are doing and they did a great job of executing tonight."
"We were just not ready defensively for anything that they threw at us," said St. John's coach Dan Grothouse. "We started in a slow gear tonight and we just did not have the intensity that we needed to have."
On the other end of the court, New Bremen's defense throttled St. John's the entire night, holding the Jays to a season-low point total. St. John's hit on just 8-of-31 shots and turned the ball over 11 times.
New Bremen did a great job on the top two scorers from St. John's, Lindsey Reindel and Zefiryn Bryan, holding Bryan scoreless and Reindel to just six points.
"We have played great defense all year and we did again tonight," said McFeely. "We have been giving up about 35 points a game and tonight we were able to step things up early defensively and build a big lead."
New Bremen came out and set the tone early in this one scoring the first eight points of the game, including six points by Stacey Timmerman. After St. John's closed to within 12-5, New Bremen got the last score of the period on a lay in by Topp.
New Bremen blew the game open in the second period outscoring St. John's 11-5 to take a 23-10 advantage at the half. In the period, New Bremen hit five-of-six shots from the floor, all three of its free throws and turned the ball over just two times.
"New Bremen came out and executed everything to a 'T' tonight," said Grothouse. "I thought I had the kids prepared enough, but I guess they were not and for that I take the blame."
New Bremen returns to action on Tuesday at home against Spencerville. St. John's returns to action next Thursday playing host to Parkway in conference play.