Saturday, May 2nd, 2009
Rain doesn't slow down Parkway
By Ryan Hines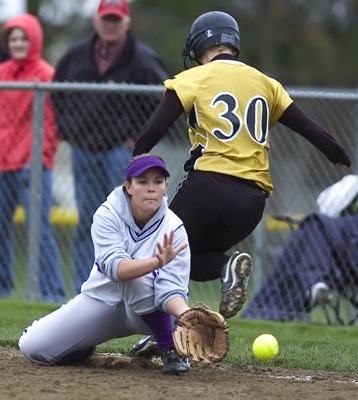 ROCKFORD - Parkway had five players with multi-hit games and Emily Crowell fired a one-hitter to lead the Panthers to a 10-0 win over Fort Recovery in five innings during Midwest Athletic Conference action on Friday at Shane's Park.
It was an impressive showing for Parkway (6-3, 3-0 MAC) which still stands as the lone unbeaten team in the MAC. Fort Recovery falls to 3-6 overall and is 0-3 in the MAC.
The cold and rainy weather never seemed to bother Parkway, which collected 15 hits and didn't commit an error.
"Any league win is a big win," said Parkway head coach Mark Esselstein. "We just want to take it one game at a time, I know that's a cliché, but we have to do that because everyone in this league is capable of beating anyone."
The 10 runs and 15 hits were more than enough offensive support for Crowell, who got the win by striking out seven Fort Recovery batters in just five innings.
"We were just thankful that we were able to play today and for Emily to go out and just hit her spots, that's what we were working on with her today," said Esselstein. "She threw well and got a couple good catches from Lindsay Shellabarger in centerfield and the rest of our defense just did their job."
While Crowell was in cruise control on the mound, Parkway's offense was the story from the opening pitch.
Crowell had four hits and scored four runs, including the final run which triggered the run rule in the fifth inning, while Katlyn Smith added a 3-for-3 day at the plate. Megan Ketchum, Danielle Matthews and Morgan Cron each added two hits apiece for the Panthers.
"The last three games we've been much more balanced on offense than we have the rest of the season," said Esselstein. "We tried to be aggressive on the bases because of the weather. We did a nice job of staying back on the ball and driving it."
Parkway was also the beneficiary of seven Fort Recovery errors and seven Indians' wild pitches which helped the Panthers to a big lead.
The Panthers are back in action again today with a home doubleheader against Fort Loramie at noon while Fort Recovery travels to Franklin-Monroe for a twinbill.