Tuesday, May 5th, 2009
Redskins come through with two outs
By Mark Ruschau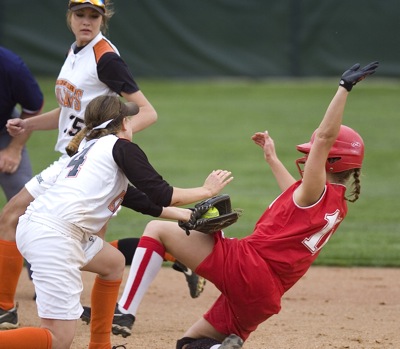 COLDWATER - The St. Henry Redskins used some two-out offensive lightning, solid pitching by Michelle Stout and some strong defense to rout the Coldwater Cavaliers 10-1 in Midwest Athletic Conference softball action on Monday afternoon at Memorial Park.
With the win, St. Henry improves to 4-1 in the conference and 11-4 overall. The Redskins are also still alive in the conference race as they trail Parkway by a game in the loss column. Coldwater falls to 1-4 in the MAC and 6-10 overall.
The St. Henry offense was at its best with two outs as it produced 15 baserunners and scored eight of its 10 runs with two outs. The St. Henry offense was spurred by the bottom of the batting order as batters 7-8-9, Shelly Post, Kris Buschur, Brittany Osterholt and pinch-hitter Kelley Bruns went a combined 5-for-10 with five runs scored and three runs batted in.
"It's nice to see two-out production like we had tonight. That's something you don't expect every game," said St. Henry coach Josh Link. "I think it was a matter of us getting used to live pitching again and they came with the attitude of enough is enough let's get something done. Hitting is contagious, once someone got a hit, it seemed like everyone got a hit and we were fortunate to be able to do that.
"I tell you what it was a real pleasant surprise to get that kind of production from the bottom of the batting order. It has to be a tremendous confidence builder for those girls," continued Link. "Those girls have been coming on for the last couple of weeks and you can see their confidence grow. To have that kind of production sure does take some of the pressure off the top of the order. It has become more of a team game and it makes me proud as a coach."
"We got two outs in each of their big innings and then it seemed like we would relax a bit and we just could not get that last out," said Coldwater coach Jeff Kerr. "They put the ball in play and we just did not make plays when we needed to, a couple of times."
Buschur got the St. Henry offense going in the bottom of the second inning as she singled with two outs. Osterholt then reached on a throwing error and both runners scored on a double by Kenzie Bruggeman.
St. Henry blew the game open in the third as it batted around, scoring four times after two outs. Macy Miller got things underway with base hit and she went to third on a single by Lyndie Kaup. Miller scored the first run of the inning when she stole home after Kaup broke for second, got caught in a run down but was able to return to first.
After Post's single, Buschur had the big hit of the inning as she plated two runs with a single. After Osterholt singled, Bruggeman singled in the final run of the frame.
While the Redskins' offense found it stride, the Coldwater offense was stymied by Stout and her mates, especially her infielders. Stout allowed just four hits and one earned run, striking out seven and walking just one. Of the 21 outs recorded by the Redskins, 14 came on ground balls, to Stout, second baseman Rachel Borgerding or Buschur at first base.
"I tell you what, Rachel Borgerding has being playing tremendous second base and Kristie made some solid plays at first base," said Link. "Those are the kind of plays that you expect out of your seniors. This time of year you kind of expect it, but to get the kind of effort we got behind her, I am sure Michelle appreciates it and I know that as a coach I do."
"Michelle is one of the top pitchers in the league and we have not hit off a live pitcher for about a week and it showed," said Kerr. "The first time we played them this year we were able to score four runs off of her and tonight we were only able to get one."