Monday, July 6th, 2009
Cavs force one more game
By Mark Ruschau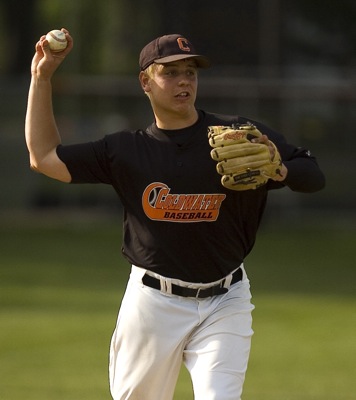 COLDWATER - Sunday afternoon the Coldwater Cavaliers stayed alive in the Mercer County ACME sectional at Veterans Park and in doing so, gained a berth in the District tournament starting Tuesday at Hanover Street Park in Minster.
In the opener, Coldwater defeated the Celina Bulldogs 3-0 in the elimination bracket finals to punch their district ticket. In the nightcap the Cavaliers defeated the St. Henry Redskins 10-4.
The Cavaliers and Redskins return to Coldwater tonight for one game at 6:30 p.m. for the sectional championship and to decide which team plays the Van Wert County sectional champion and runner-up. The winner faces Van Wert with the loser facing Van Wert County champ Crestview.
Coldwater-Celina
Needing a win to advance to the district tournament, both Celina coach Rob Howell and Coldwater boss Tom Brunswick went to their aces, Howell going with Darin Waterman and Brunswick going with stud Keith Wenning and both pitchers threw gems.
Wenning allowed Celina on just two hits and one unearned in pitching the complete game. The senior to be did allow a walk and struck out 12.
Wenning set down the first ten batters he faced before giving up a two out hit do Hayden Heiby in the fourth. Wenning then set down the next seven batters, before the Bulldogs scored their run on an error and two ground balls
Waterman was just as impressive as he allowed just five hits and three runs. Waterman walked three and struck out eight.
"If you want a number one pitcher on the mound, that guy is Keith Wenning," said Brunswick. "He threw a great game for us, he had velocity, he had good location and command of his pitches. He was in total control for the whole game."
"Every time we play each other it usually a pitchers' duel and it was that way today," said Howell. "We has two of the best pitchers in the area right here today and it makes for a great ball game.
"Keith is a great pitcher and my hat is off to him and Coldwater," continued Howell. "Keith pitched a great game, just the type of game that you need in a tournament game. He mixed his pitches well and hit spots and that is what it takes to win."
Coldwater was able to get to Waterman for the only run they would need in the top of the first. Chad Westgerdes led of with a single, moved up on back to back ground balls and scored on a single by Wenning.
Coldwater added a pair of runs in the fourth, without hitting a ball out of the infield. Adam Rammel led off with a slow rolling base up the first base line and he stole second and went to third on a wild pitch. After a walk to and a stolen base by Reese Klenke, Alex Winner hit a ground ball to second base man Braden Billger who threw home late to get Rammel to make the score 2-0. After Collin Paynter struck out, Alex Kremer plated the second run of the frame on a ground ball.
"Darin Waterman is a good pitcher and he did a great job of mixing his pitches," said Brusnwick. "We had to get some hits, we did not get many of them, we got just enough to back up Keith's great pitching performance."
St. Henry-Coldwater
In the nightcap the Coldwater bats exploded over a pair of St. Henry pitchers. In the second game, Coldwater knocked out 13 hits, including five for extra bases.
Chad Westgerdes led the hit parade with three hits, including a triple, scoring two runs and knocking in two others. Aaron Rammel had three hits, including two doubles and a triple, scoring three times and three RBI.
Coldwater jumped on St. Henry starter Brady Kremer for three runs in the first inning and they never trailed. Chad Westgerdes led off the game with a single and stole second. After Jordan Woeste singled, Rammel tripled to the gap in right center, scoring two runs. Nate Piper drove in the third run of the inning with a single.
While the Coldwater offense found its groove, the St. Henry offense struggled to come up with the big hit with runs in scoring position off Coldwater starter Collin Paynter. On the day, St. Henry collected eight hits but left 10 runners at least one in every inning and six in scoring position.
In the first inning, St. Henry loaded the bases but could score just one a run, as they left two runners on as Paynter got Jordan Post to hit into a fielders' choice and Cory Siefring to bounce to end the inning.
"We got a lot of guys on base but we just could not come up with a clutch hit when we needed it like we have been getting earlier in the tournament," said St. Henry coach Todd Franck. "We did not do a good job with runners in scoring position."