Wednesday, July 8th, 2009
Beasley promoting his soccer school
By Gary R. Rasberry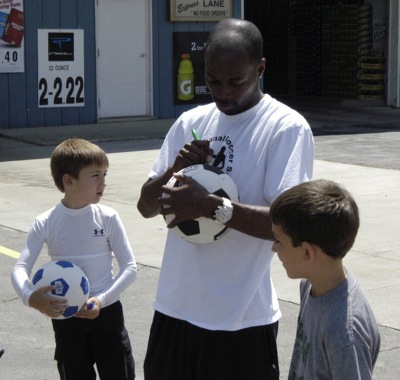 It's a very busy time for soccer star DaMarcus Beasley.
In between getting ready for matches with the U.S. National Soccer Team and for his professional team in Scotland, the Fort Wayne native is promoting his soccer camps.
Beasley was at the Celina Wine Store on Tuesday afternoon for an appearance in advance of the Beasley National Soccer School that will be held at Westview Park July 27-31. The Wine Store is a major sponsor of Beasley's camps.
The 27-year old midfielder, whose playing career includes five years with Major League Soccer teams Chicago and Los Angeles and international play with Dutch club PSV Eidnhoven and English Premier League club Manchester City, has a lot of items on his plate between instructional camps, national team duties and club team requirements.
"It is (busy), but obviously, it's something I've wanted to do for a long time," said Beasley. "It's my second year of doing camps. I don't get much time off, I can't be at every one, but the ones I can be at, I'm here for and I take pride in. It's fun being with the kids. That's what it's all about: having fun and learning the game of soccer."
Beasley is no stranger to the Celina area, having worked camps with longtime soccer coach Bobby Poursanidis before putting together his own camp. Poursanidis continues to help out and was with Beasley in Celina.
"That's something Bobby taught me 5-6 years ago, about whether I was ready to do all that stuff with my time off in the summer," said Beasley. "Last year I was ready."
The U.S. program got a boost while playing the FIFA Confederations Cup in South Africa, beating international powerhouse Spain before losing to Brazil in the championship match.
A veteran of 89 Caps, or appearances in international play for the U.S. team and 17 international goals, Beasley is getting ready for the next round of 2010 World Cup qualifying. The U.S. is currently 3-1-1 in pool play, with an August 12 trip to Mexico City to face rival Mexico looming. The 2010 World Cup will also be played in South Africa.
Beasley is also getting ready for another season with his current club Rangers FC, which captured the Scottish Premier League and Scottish Cup titles the previous season, and getting ready for action in August.
"I've been fortunate to play with a lot of good clubs around the world," said Beasley. "It's something I'll never forget, obviously. I'll keep that with me. Hopefully I'll take what I learned from all those things with the national team and European teams I've played for and share my experience with the kids coming to my school."
Camp info: The Beasley National Soccer School will hold its camp in Celina on July 27-31 at Westview Park. Three different camps, ranging from a fundamental camp for players age 5-7 to an Academy Level camp for players age 12-18 will be held from 9 a.m. to 5 p.m. each day.
Camp registration forms can be picked up at the Celina Wine Store.