Monday, March 8th, 2010
Dues glad to be part of MatDog history
Mercer Country trio wraps up stellar seasons, careers
By Gary R. Rasberry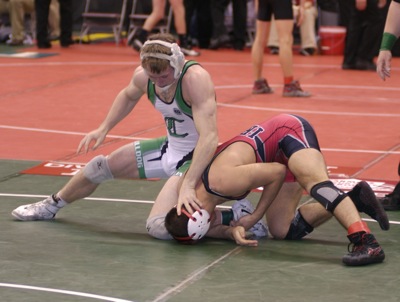 COLUMBUS - While getting a win in his final match was not to be, Alex Dues has plenty to be proud of.
Dues became the first Celina wrestler to place in the state wrestling tournament since 2003 as he took to the mats on Saturday in the Division II State Wrestling Championships at the Schottenstein Center on the campus of The Ohio State University.
Dues, who lost in the championship semifinals, becoming only the second MatDog to reach that match in school history, had a chance to place as high as third and no lower than sixth on Saturday as he took to the mats in the consolation semifinal against Tony Martin of Toledo Central Catholic. Martin got the early lead, but had to hold off Dues in the final period to take the 5-3 win, putting Dues in the fifth-place match.
To earn fifth place, Dues would have to face the wrestler he beat in the quarterfinals, Cody Ryba of Mantua Crestwood. Unlike the first meeting, where Dues rallied to get the 7-6 win to move to the semis, Ryba was on point, dominating to take at 13-4 major decision.
"Everyone wants to win that last match," said Dues, who ends the year at 30-7. "Going in, I wanted to win pretty bad, but, hey, I made it, I placed and we got two state placers for Celina (teammate Codey Welker placed eighth at 285 later in the day), so I'm pretty happy."
After coming to Columbus last season as an alternate, Dues was happy to get the chance to take to the mats at the Schottenstein Center.
"You never really know the intensity of state until you're actually down there and see what goes down," said Dues, who ends his career at Celina with a record of 142-36.
The crowd, with had over 12,000 during the first two days of action, awed Dues a bit.
"Everytime I walked out of the tunnel, I got goosebumps," said Dues. "Just going out, looking up and seeing thousands of people, It's amazing."