Monday, March 8th, 2010
Kunk ends season right: with a win
Mercer Country trio wraps up stellar seasons, careers
By Gary R. Rasberry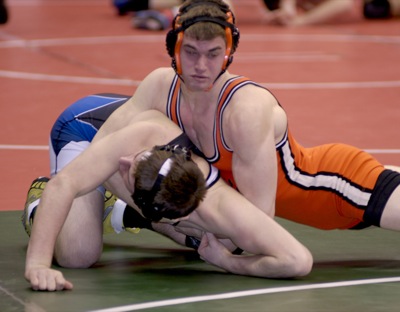 COLUMBUS - Talk about the perfect pre-match workout.
Before his seventh-place match on Saturday at the State Wrestling Championships, Trevor Kunk got the workout from his father.
It worked as Kunk picked up a win in his final high school match, taking seventh place in the Division III 160-pound division with an 8-5 win over Matt Meadows of Cuyahoga Valley Christian Academy at the Schottenstein Center in Columbus. The win allows Kunk to become the fifth Cavalier wrestler to place in the state tournament.
"Beforehand, me and my dad were wrestling, getting me warmed up," said Trevor, whose dad Ted is the Coldwater junior high coach and former Cavalier wrestler. "... That got me warmed up, then I came out and (Meadows) didn't act like he cared and wasn't ready. I just kept attacking him and doing what I had to do,"
Sporting an old-school Cavs singlet, Kunk dominated from the opening whistle to the final, getting takedowns and cutting Meadows loose if he could not roll him over for backpoints.
Having his father help coach him at the state tournament, along with head coach Chuck Alig, was big for Trevor, who watched as older brother Tyler, a three-time state qualifier, placed sixth in the state in 2008.
"I saw (Tyler) wrestle down here (at State). He's a great wrestler. I said 'Someday I'm going to be down there.'," said Trevor, who finishes the season at 43-10. "I just had to work hard and not take it easy. You don't get here if you take it easy. You have to work your butt off. I worked my butt off and came down here and did what I had to do."
Kunk takes away a lot of memories after his turn on the floor of the Schottenstein Center.
"The experience. The people cheering for me," said Kunk, whose career record stands at 127-55. "My family supporting me. My friends, the people who really care that I can do it. That's one experience I'll never forget; how great it was to be here and to show up."