Tuesday, August 3rd, 2010
Crowds turn out for hot new show
By Margie Wuebker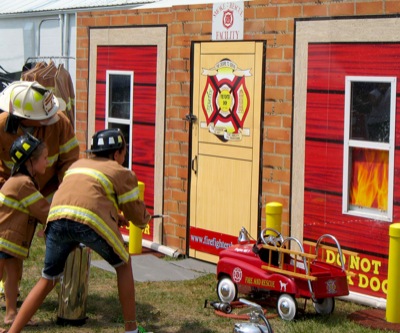 WAPAKONETA - A siren shattered the traditional midway sounds at the 158th Auglaize County Fair on Monday. Neal Snyder drew young and old alike to his entertaining Firefighter Training Show, a new addition to the fair lineup.
"The show plays off every child's curiosity to one day be a firefighter-hero," the Clermont, Fla., resident said. "Not only do kids get to dress up and act like firemen, but they learn important rules that could save their lives or the lives of family members."
It does not take long to pull four excited volunteers from the audience and get them suited up in turnout coats and helmets.
Alluding to the 90-degree temperature, Snyder told his fledgling crew, "We'll go casual today. These are heavy coats so you do not have to button or zip them up."
After successfully completing a rookie's duty of polishing the fire truck, they learned to unroll the fire hose in an orderly fashion and attach the nozzle. Simulated flames danced in the windows of the rescue building prompting a series of tones and the ominous page "Engine One report to the smoke training facility."
The volunteers quickly doused the flames with a steady stream of water from their shiny fire extinguishers. At Snyder's direction, they immediately dropped to the ground and crawled inside the smoke-filled building to rescue a pair of brightly-colored plastic creatures.
"If you spot fire in your house, get outside and stay outside," Snyder told the audience. "Only firefighters are trained to do rescues."
He also reminded youngsters not to run and hide if they hear a smoke detector blaring because a bed or a closet affords no protection from smoke and flames.
"A very small fire can fill your whole house with smoke," he added. "Hug the floor beneath the smoke and crawl to the nearest exit."
Other tips included replacing smoke detector batteries, making sure homes have at least one working fire extinguisher, collaborating on a family escape plan and having periodic fire drills to make sure everyone knows what to do in an emergency.
Snyder is no stranger to educating and entertaining at fairs and festivals throughout the country. He took Alligator Adventures with a live crew of toothy characters on tour in 1994. His brother, a firefighter with more than 20 years of experience, was his inspiration for the current show.
The pair spent more than a year purchasing firefighting equipment and creating the realistic set complete with a kid-size fire truck, flashing lights, a smoke rescue building, a fire tower with a water cannon and a fire hose fountain.
After appearing at a Las Vegas trade show in 2006, Snyder embarked on a 150-show schedule throughout nine states in 2007. The number of engagements continues to grow, he said.
Jeff Tremaine, a Pennsylvania resident and volunteer firefighter visiting relatives in Auglaize County, watched the Monday afternoon show from start to finish.
"Kids on the set and kids in the audience got a real education in fire safety today," he said.

Firefighter show:
A 20-minute Firefighter Training Show will be presented 2, 6 and 8 p.m. Wednesday, Thursday and Friday, and 2, 4, 6 and 8 p.m. today and Saturday.
The set is located next to the commercial building at the north end of the fairgrounds. There is no cost.