Wednesday, September 1st, 2010
Incentives aid development
By Christine Henderson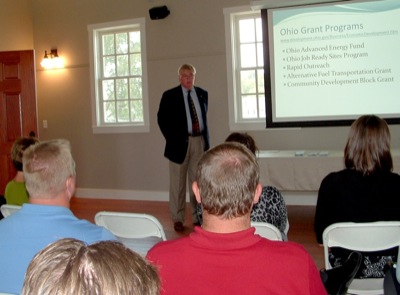 NEW BREMEN - The state offers a variety of loans, grants and tax breaks to assist businesses in starting or expanding.
"Incentives are never the driving factor, but can be a decision-maker" for business people considering new projects, said Jerry Good, regional economic development director for the Ohio Department of Development.
Incentives ranked third below labor costs and highway accessibility in reasons for a site selection, according to a 2009 corporate survey in "Area Development" magazine.
Programs of the New Bremen Community Improvement Corporation and the ODD were explained at a seminar organized Aug. 25 by the Southwestern Auglaize County Chamber of Commerce. Good, ODD region 3 economic development director, and Karen Mauch, economic development director for New Bremen, spoke in the Lockkeeper's House in New Bremen to about 20 people, including local and state officials.
The 2005 rewriting of the tax structure provided "one of the greatest incentives" for businesses to move into or expand in Ohio, Good has found. The new tax law eliminated the machinery/equipment/inventory tax.
Previously, Ohio was not as competitive but in the last three years, Good said he has won battles to keep companies in Ohio, such as Cooper Tire and Whirlpool.
Most of Ohio's tax credits, loans and grants are for manufacturing, logistics/warehousing and back office operations, he said.
Tax credits for business projects are available from the state for:
• Job creation - The number of jobs to qualify has been lowered to 10 with the credit based on payroll. A business gets part of the taxes from employees back by completing a one-page document that only asks for information already reported on taxes, Good said. If the liability is greater than one's taxes, the business gets a check. Other credits are carried over to the next taxing year.
• Job retention - The number of jobs to qualify was dropped to 500 and the project outlay reduced.
• Research and development - A company can get up to 7 percent credit for qualified R&D either in-house or contracted.
• Technology investment - This 25 percent credit helps small technology companies start.
• Motion picture - Companies making movies or documentaries can get a 25 percent tax credit for filming in Ohio. "There are seven to 10 currently being shot," he said.
Ohio also offers several loan and bond programs to give better rates for business projects. There are funds for R&D investment loans; Ohio Enterprise bonds that allow companies to use Ohio's rating; Ohio Capital Access Program, which helps a business get credit; and the Innovation Ohio Loan for acquiring/developing new technology.
The 166 Direct and Regional 166 Direct programs use the liquor sales tax revenue to give loans at 3 percent interest, Good said.
"The taxes are at an all time high," Good noted, so there is money available.
The regional program, covering Mercer and Auglaize counties, is administered by the West Central Development Corp. Loans are available up to $500,000 with a $750 application fee. The loan program can fund up to 75 percent of a project.
"What people are most interested in are grants - how we get free money," Good said. "There are very few grants to individuals."
Grants to companies are for:
• Advanced Energy - Businesses can get a free energy audit and help paying for recommended work to save energy.
• Job Ready - Communities get financing to prepare sites for industry. Wapakoneta will have Ohio's first job-ready site, Good said. Land at Interstate 75 and state Route 33 will have rail and utilities. Van Wert has in the works a site with more than 1,000 acres.
• Rapid Outreach - This discretionary fund has about $8 million to assist companies.
• Community Development Block - This is one of the few ODD programs to assist retail and service businesses, Good said. A business can get a lower interest rate to blend with a bank loan.
New Bremen offers an Enterprise Zone where property owners in much of the village can get tax reductions for new projects for up to 10 years. The Community Reinvestment Area for limited-time tax exemptions are for residential or business, Mauch said.
For more information about incentive programs use the Web sites of New Bremen at nbecondev@nktelco.net; ODD at www.development.ohio.gov/Business/EconomicDevelopment.htm; or Good at Jerry.Good@development.Ohio.gov. Good also can be reached at 419-229-5320.