Wednesday, March 2nd, 2011
Coldwater, St. Henry advance
Division III Sectional at Wapakoneta
By Gary R. Rasberry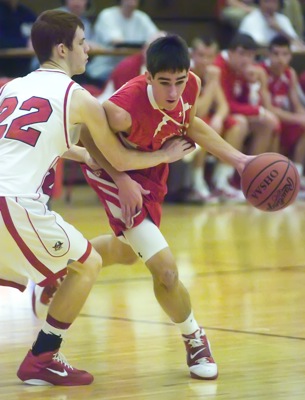 WAPAKONETA - Friday night will be a Midwest Athletic Conference vs. Northwest Conference battle for sectional titles in the Division III boys basketball tournament at Wapakoneta High School.
While one matchup was a given with two MAC teams battling it out in one semifinal, it took a tremendous test of wills for St. Henry to lock up the other sectional final spot.
St. Henry led Bluffton by double digits in the second half, only to have Pirates' guard Matt Gillett hit a three-pointer at the buzzer to tie the game and force overtime. St. Henry dominated the extra session to escape with a 73-65 win in the nightcap on Tuesday.
St. Henry (11-9) will face second-seeded Delphos Jefferson in the 8 p.m. sectional final on Friday. The opening game on Friday will pit Coldwater, a 52-39 winner over Parkway on Tuesday, against defending state champion Lima Central Catholic starting at 6:15 p.m.
St. Henry 73, Bluffton 65 (OT)
The Redskins had to fight off the Pirates (10-11) for most of the evening, but an early spark in the second half had St. Henry up 40-29 midway through the third quarter. Bluffton's Gillett and 6-6 post player Kyle Siefker helped get the Pirates to within four points by the end of the third quarter at 46-42.
"They're a very good offensive team," St. Henry's coach Eric Rosenbeck said of Bluffton. "We were trying several different things and they were making it. We did just enough."
The Pirates finally pulled even with the Redskins after Gillett hit a trio of free throws as 3:40 showed on the clock. However, St. Henry regained the lead and was up 62-59 with 7.7 seconds left when Caleb Heitkamp missed a free throw that would have made it a four-point game. Levi Gleason got the board for Bluffton and got the ball into the hands of Gillett, who fired a rainbow from the top of the key at the buzzer to tie the game at 62-all while sending the game into overtime.
"We don't practice switching (on defense), but that's what we thought was best," said Rosenbeck about the game-tying shot. "Cory Siefring was a little low on his switch. We didn't want to foul them going up the court on the basis that we weren't making our foul shots (St. Henry was 17-for-32 in the game). If we fouled them early and (then) we miss one, that would give them 3-4 seconds to get one. ... Give Gillett credit. Cory was a little lower than we would have liked, but that ball was a rainbow that hit nothing but nylon."
Gleason hit a free throw 39 seconds into the extra session that gave Bluffton its only lead of the game, but there would only be two more Pirates' points the rest of the game. St. Henry's Steven Luttmer hit a three seconds later to put St. Henry back on top and Heitkamp put an exclamation point on the Redskins'' win with a breakaway dunk with 1:45 to go that made it a six-point game.
"Steven didn't play the normal amount of minutes because of the flow of the game," said Rosenbeck. "But we put him in, and we were down in overtime and (Bluffton) had all the momentum. Luttmer stepped up and hit a huge three. From there, we got enough defensive stops."
Heitkamp was on fire on the evening for the Redskins, hitting 12-of-16 from the field, with a trio of treys, to finish with a game-high 34 points.
"Caleb was disappointed in his performance against New Knoxville," said Rosenbeck, a reference to Heitkamp scoring just four points against the Rangers. "Wow! That's how a young man is supposed to respond to adversity. He didn't put his head down. He didn't complain. He didn't whine. He went out there and got the job done."
Stahl added 11 points and 11 rebounds for St. Henry.
Gleason finished with 18 points and 14 rebounds for the Pirates while Siefker added 18 points with R.J. Stratton scoring 15.
Coldwater 52, Parkway 39
The Panthers were in control early on with an 11-0 run that put Parkway up 11-4 with 2:50 to go in the opening quarter. The Cavaliers bounced back to trail only by a 12-10 margin after one quarter of play.
In the second quarter Austin Bruns took charge, scoring 14 points in the quarter and outscoring Parkway by himself as some cold shooting handcuffed the Panthers with the Cavaliers taking a 29-22 advantage at halftime.
"Parkway got the early lead, and those two threes by Randal (Muhlenkamp) really were important," said Coldwater's coach Mike Bruns. "Second quarter we got a little bit of a spurt. Austin got some points there. That helped a lot in the first half."
"I thought we fouled way too much to be able to stay in the game," said Parkway coach Doug Hughes, whose team committed 23 total fouls. "Bruns had a great game. He did a lot of nice things for them. (He) hit a lot of shots that got us out what we wanted to do on defense in the first half."
Parkway never got closer than six points in the second half as the Cavaliers put the game away at the free-throw line (22-of-35). The Cavs needed the production from the charity stripe as they were just 12-of-28 from the field.
Bruns finished with 21 points and 10 rebounds before fouling out late in the fourth quarter. Kevin Timmerman added 14 points.
Riley Bransteter led Parkway with 19 points.
"We were pleased in containing (Corey) Decker," said coach Bruns, a reference in holding Parkway's leading scorer to nine points on 4-of-16 shooting. "Ross Wermert and Randal did a good job on him.
ST. HENRY TICKETS - Tickets for St. Henry's game on Friday will be on sale until 2 p.m. on Friday at the high school office (during the school day) and at Gels' IGA (during business hours). Tickets are $6 for adults and $4 for students.