Friday, September 9th, 2011
Roughriders score six times in shutout win
By Gary R. Rasberry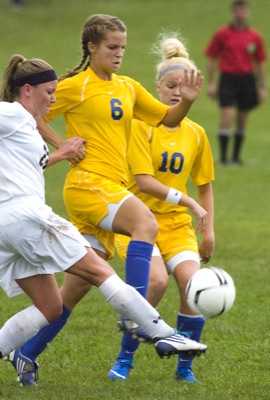 COLDWATER - St. Marys pushed its record to 5-0-1 on the girls' soccer season as the Roughriders braved the rain to post a 6-0 win over Coldwater on Thursday at Village Hall Field in Coldwater.
It's the fourth shutout this season for the Roughriders, who have now outscored their opponents 37-2 in six games. Coldwater falls to 2-6 with the loss.
St. Marys got two first-half goals, the first coming just over eight minutes into the game when Hannah Yaney put a rebound into the back of the net. Then with just over 11 minutes to go in the half, Sara Lininger got a breakaway and shot the ball past a slipping Krista Wellman to make it 2-0 at the half.
"I told the girls at halftime I'm still not happy with the way we're playing," said St. Marys' coach Paul Dingledine. "We didn't possess the ball all that well. We needed to do a little bit better job possessing the ball."
The rain, which lightly started early in the match, picked up in intensity in the second half, which coincided with St. Marys also picking up the intensity. Molly Albert had two goals, at the 33:45 and 9:42 mark of the second half, to make it 4-0. Then in the final seven minutes, Ashley Hale came off the bench to score a pair of goals to wrap up the scoring.
"Ashley did a nice job coming off the bench," said Dingledine. "Got two nice goals. She filled that spot real nice. We'll take the W."
The Roughriders outshot the Cavaliers 21-4 in the contest. Wellman made 10 saves on the night while Roughriders' keepers Paige Dicus and Shelby Goodwin each made a pair of saves.
Even with the lopsided score, Coldwater's coach Scott Brinkman was happy with his team's defense against a high-calibre team.
"We know it's so hard for us to possess the ball, just to hold the ball and do much offensively," said Brinkman. "When we have to defend and defend against teams, they're going to score goals against us. I guess our hope is we don't allow too many and get an opportunity on our end."
St. Marys travels to Van Wert County on Saturday to face Lincolnview while Coldwater is off until Tuesday when the Cavaliers travel to Putnam County to face Continental.