Tuesday, October 4th, 2011
Seniors pave the way in Celina's shutout
By Gary R. Rasberry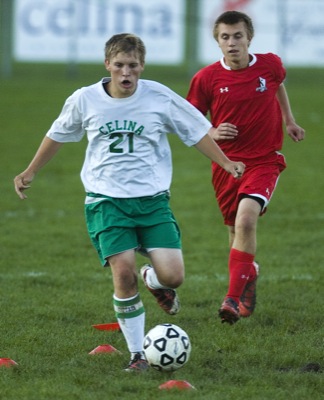 CELINA - The Celina boys' soccer team celebrated senior night by picking up their fifth Western Buckeye League win of the season in a 5-0 shutout over Kenton at the Soccer Stadium on Monday night.
The Bulldogs are now 8-4-1 on the season and 5-2 in the WBL while the Wildcats drop to 2-10-0 overall (0-6 WBL).
Celina's nine seniors got plenty of playing time, with three of the seniors accounting for four of the five Bulldogs' goals.
"Before the game, we talked how it would be nice to get a win for the seniors on senior night," said Celina's coach Ryan Jenkins. "The guys played well. We had a lot of shots and we were able to finish on five of those."
Brock Schmidt got the scoring started for Celina, as the senior tallied a goal off a penalty kick with 23:48 left in the first half. Nearly 16 minutes later, classmate Logan Laux scored an unassisted goal to give Celina a 2-0 advantage at halftime.
The final three goals for the Bulldogs came within a span of 8 1/2 minutes in the second half. Eric Moeder scored the only non-senior goal - although Laux got the assist - at the 36:42 mark. Sean Mertz followed up 2 1/2 minutes later by deflecting the ball off Kenton's keeper Colin Roll to make it 4-0. Schmidt capped off the scoring with 28:14 left in the match with his second goal of the match.
Celina outshot Kenton 22-2 with Bulldogs' senior keeper Brandon Jenkins needing to make just one save. The Bulldogs also had 14 corner kicks to just one for the Wildcats.
"Defensively, we knew (Kenton) wanted to do quick transition," said coach Jenkins. "We worked on making sure we got back, because they had some speed up. We were able to handle it and get the shutout.
"Anytime you get a league win, you take it. (We've) got another big league game on Thursday (at home) against Elida (who lost 4-0 to WBL leader Bath on Monday)."
In an abbreviated junior varsity match, Celina won 3-0. Bulldogs' goals were scored by Matt Moege, Logan Randolph and Ethan Phlipot.