Friday, October 7th, 2011
Cavs sweep Lions Invitational
By Gary R. Rasberry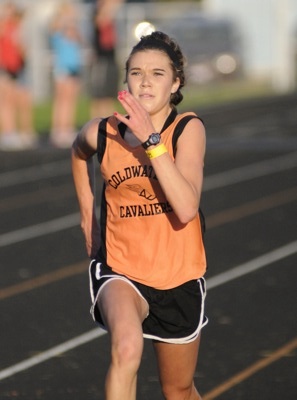 COLDWATER - Need a barometer to see how next week's Midwest Athletic Conference cross country meet could pan out? The Lions Invitational provided it.
If Thursday was an indicator, hold on to your hats next week!
With all 10 MAC schools in action, along with top teams from the surrounding area as well, Coldwater swept the high school boys' and girls' team titles to land themselves as the favorite for next week's conference meet back at their home course.
The Lady Cavaliers, the top-ranked Division III team according to the coaches poll, placed their five scoring runners in the top 22 spots to tally 44 points, 28 points ahead of runner-up Versailles and 31 points ahead of Minster, the team that has had a grip on the MAC for the last 17 years.
"I'm very happy with the performance of the girls," said Coldwater's coach Dan Pohlman. "We just have to continue working hard, but I know (Minster's girls' coach) Jessie Magoto's team. They won't give in. They're going to be after us and we're going to have to compete next week."
The Cavaliers' boys, ranked second in the D-III coaches' state poll, were 29 points ahead of runner-up Minster in the standings by a 59-88 margin and 34 points ahead of fourth place St. Henry, with Western Buckeye League power Van Wert finishing third.
"Like I told my guys, go out there and run their race. Don't worry about other teams," said Pohlman. "If you can run your race and do what we know you can do, you're going to be good. Anything can happen at the MAC. Every year, you never know who's going to win the MAC."
Freshman Sarah Kanney continued her dominance of the 5,000-meter courses in breaking the school record with a time of 18:21.50, 15 seconds ahead of two-time MAC race champ and defending state champ Tammy Berger of Versailles. Christina Seas, previous holder of the Coldwater record, finished third.
In the boys' race, Versailles' Sam Prakel, the defending MAC champ, finished 13 seconds ahead of Coldwater's Mike Seas to win the Lions' race, crossing the line in 15:38.90. Van Wert's Jared Fleming was third, followed by Francis Slonkosky of Minster in fourth.
In the junior high 2-mile races, Lincolnview won the boys' title in edging Coldwater 124-132 while Minster's junior high girls dominated in their victory by scoring 34 points, 48 points ahead of Versailles. New Bremen's Cort Speckman won the boys' race with Wapakoneta's Allie Zofkie winning the girls' race.
Action begins for the MAC meet next Thursday with junior high races starting at 5 p.m., followed by high school races.