Saturday, March 3rd, 2012
Chardon student shares chilling experience
By Shelley Grieshop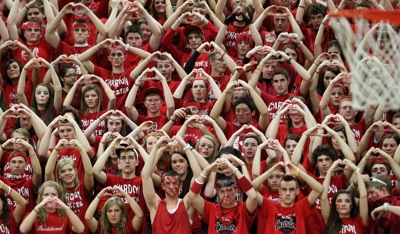 Chardon High School freshman Carley Maruna admitted she paid little attention in the past when the district conducted lockdown drills.
"No one took it too seriously," the 14-year-old said during a phone interview this week from her home.
But when she heard shots fired in the school cafeteria Monday morning and student Nick Walczak dropped to the floor five feet behind her, the training kicked in.
"I knew what to do," said Maruna, granddaughter of Joe and Trudy Maruna of Coldwater. "My friends and I ran as fast as we could."
Three students were killed Monday when a fellow student began shooting inside the cafeteria of the 1,100-student Chardon High School, located about 30 miles east of Cleveland. Classes resumed Friday, with police on hand.
Maruna, the daughter Tim and Bev Maruna, was in the cafeteria that morning with more than 100 other students. Some were there for study hall, others were awaiting a bus to attend classes at Auburn vocational school. She and her friends were watching morning announcements on TV before heading to a mobile classroom for health class, she said.
"I heard a gunshot but didn't really think it was a gun," she said. "Then I heard it go off probably two or more times after that."
She never saw the face of the shooter, 17-year-old T.J. Lane, a boy she hardly knew, she said. As previously taught, she and others fled down the hallway and into a random classroom to take shelter. They told the teacher what was going on and she calmed them, Maruna said. Soon a voice on the public address system announced the school was on lockdown.
The students were told to crowd into a corner of the room that was not visible from the small glass pane in the locked door. As the hours passed, she texted her mom and was reassured that her brother, Daren, 16, had been in touch and was safe in a classroom on the second floor.
Lane fled the building and was arrested a short time later. Teachers took names of students for accountability, and hours later the students were dismissed.
Maruna lauded several teachers for their heroics including Joe Ricci, who pulled Walczak from the hallway into his classroom and gave him medical attention until paramedics arrived.
Ricci, the son-in-law of St. Henry native Donna Jean Tobe Zagar, now of Chardon, on Tuesday was commended for his actions by Ohio Gov. John Kasich.
Within 24 hours of the tragedy, three of the five wounded students had died. Walczak, who was shot four times - twice in the neck and once each in the back and arm - remains in serious condition with no feeling in his legs. Another injured student, Joy Rickers, 18, was released from a hospital Tuesday.
Lane has been charged with three juvenile counts of aggravated murder and may be tried in court as an adult.
Earlier this week, Maruna helped place red ribbons around the community to honor the victims. She said the horrible event has "definitely brought our community a lot closer together." People are leaning on one another, and it's helping, she added.
"I have a lot of friends and family giving me support," Maruna said.