Friday, June 1st, 2012
Area libraries to upgrade systems
By Amy Kronenberger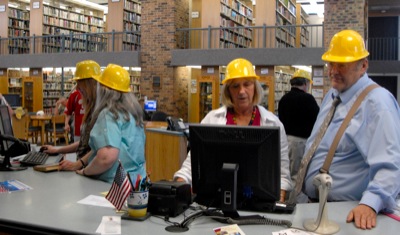 Area librarians are asking for patrons' patience as they transition to an updated computer system this month.
Mercer County District Public Library in Celina and its branches in Mendon, Chickasaw and St. Henry will be closed Thursday, when the system goes live, Celina librarian Liz Muether said.
St. Marys, Rockford and Fort Recovery libraries are upgrading to the same system. St. Marys will close Thursday until 1 p.m.; Fort Recovery will be closed as usual on Thursdays; and Rockford plans to stay open during the work.
Patrons at all participating libraries can expect limited services and delays this week and next week, librarians said. Suspended services include the online catalog and new member sign-up.
Children signing up for the children's summer reading program can do so at any time but will have to wait until June 8 to receive a library card, Celina adult services coordinator Connie Gray said.
"Services are going to be very limited," Muether said. "No one will be able to look anything up, and the entire staff is learning the new system so patience will be needed."
The new system, called Symphony, will be easier and faster for patrons to use, Gray said. The new online catalog, called eLibrary, will be more interactive, offering social media capabilities.
Muether said Symphony will allow patrons to recommend items to other patrons, and it will recommend items to patrons based on what they've previously checked out, similar to shopping on Amazon.com.
"In reality, we're still working on it, so we don't really know what the new system will look like," Gray said. "It's an extremely complex situation."
All participating libraries are members of the Serving Every Ohioan Library Consortium. The consortium updates its computer system every five years for its members.
Celina library director Austin Schneider said the entire project costs about $150,000 divided amoung the approximate 150 consortium members.
"We know we'll have to upgrade every five years to keep up with technology," Muether said. "So we save part of our dues to pay for it."