Wednesday, August 1st, 2012
Fire severely damages house
No one injured in St. Marys residence
By Shelley Grieshop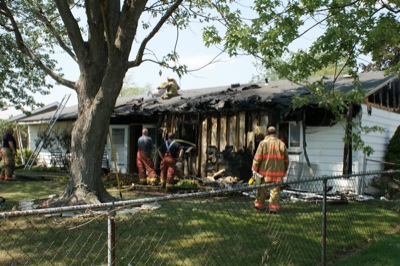 ST. MARYS - A fire Tuesday afternoon heavily damaged a home and kept fire crews on the scene for more than six hours.
Firefighters from the city and township departments, as well as manpower from Celina Fire Department, were summoned to the residence at 1501 Neil Ave. about 2 p.m. No injuries were reported and no one was home at the time. Flames were shooting into the air when crews arrived, St. Marys City Fire Chief Joe Weaver said.
"It had a good start on us," he said.
Neighbors stood on their lawns and watched as smoke billowed from the windows and roof of the burning ranch-style house owned by Steve Wagner. The fire began in a back bedroom but officials have not determined a cause; no foul play is suspected, Weaver said.
The State Fire Marshals office was called to help with the investigation. Weaver said new regulations require fire departments to summon the state agency when damage exceeds $50,000. Damage to the Neil Avenue home and its contents was placed at $80,000 to $100,000.
A neighbor called 911 shortly before 2 p.m. after hearing a crackling noise, Weaver said. An explosion also was reported but it likely occurred from a backdraft inside the home, he explained.
Firefighters were forced to enter and search the home after Wagner had wtold them via phone that his teenage son might be inside. It was later determined the boy was at another location.
Weaver said the local American Red Cross chapter is helping the displaced family. The agency also provided support for the firefighters as they battled the flames in Tuesday's warm temperatures.
"They brought us water and ice and that was really appreciated," Weaver said.