Thursday, August 9th, 2012
Officials take swine flu precautions
30 cases in Ohio connected to fairs
By Shelley Grieshop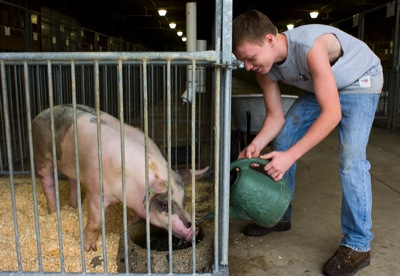 Warning signs and extra hand sanitizers will greet fairgoers and exhibitors at this year's Mercer County Fair due to a statewide outbreak of influenza associated with swine.
Thirty cases of H3N2v - an influenza A virus - have been confirmed in Ohio in people who had direct contact with swine at fairs. The Mercer County Fair opens Friday.
Joyce Jansen, director of nursing for the Mercer County-Celina City Health Department, told board members Wednesday that fair officials and 4-H advisers are being proactive and taking every precaution.
"We've talked to the fair people and gave them some extra posters for their restrooms," she said. "They already had extra sanitizers ordered."
Deb Scheer, the county's licensed epidemiologist, said fair organizers are "doing a real good job" in efforts to keep the illness at bay. She also noted that Coldwater hospital personnel are aware of the virus' presence in Ohio and know the necessary testing procedures to confirm it.
H3N2v and other influenza viruses are not unusual in swine and can be directly transmitted to people from swine and vice versa. Health commissioner Dr. Philip Masser asked Scheer if any person-to-person transmissions have been confirmed. She said none were confirmed yet, but several cases are being investigated.
Ohio Department of Health officials in a recent press release explained how easily the virus can be transmitted.
"When humans are in close proximity to live infected swine, such as in barns and livestock exhibits at fairs, movement of these viruses can occur back and forth between humans and animals," ODH stated.
ODH stressed the influenza virus cannot be transmitted by eating pork or pork products.
Symptoms of H3N2v include cough, sore throat, fever over 100 degrees, body aches and possibly nausea, vomiting or diarrhea.
Officials say fair attendance is safe. However, ODH advises everyone to wash hands with soap and water before and after petting or touching any animal. Eating, drinking or putting anything into one's mouth should be avoided in animal areas, ODH stated.
Counties with confirmed H3N2v cases include Butler (16), Clark (13), Gallia (4), Greene (4) and Hamilton (3). Victims to date are between 6 months and 36 years old. Although the cases reported have been mild, one person was temporarily hospitalized as a precaution, ODH officials confirmed.
"Although this strain of influenza does not appear to be severe, we want to make sure that local fair boards and veterinarians have all the support they need to continue monitoring the situation and to ensure that Ohioans can safely attend their county fairs," said David Daniels, director of the Ohio Department of Agriculture.
Also on Wednesday, health board members approved a food service plan for Arby's of Celina, which is planning a "significant" remodeling project including the addition of a dining room fireplace. The board also approved a food service plan for a Dollar General store in Fort Recovery, even though village council members recently rejected a zoning change to permit the store to be built in the industrial park.
The health board also,
• held an executive session to discuss a complaint against a public employee. No action was taken following the session. Due to employee privacy laws, details were not provided to the newspaper.
• approved an order for Amber Steinecker, 6953 state Route 219, lot 31, Celina, requiring her to provide proof of a rabies vaccination for her dog. The animal reportedly bit a family member on June 11. Steinecker reportedly has not responded to letters sent from the health department on June 12 and June 28. She has until the end of August to provide the vaccination confirmation.
• Learned the environmental department intends to raise certain fees in the near future. The board was given a list of the proposed fee schedule for review and likely will hear the first of three readings at the September meeting.
• Adopted a resolution, which already was approved by county commissioners, to allow residents to use credit cards and other financial devices to pay for certain fees and services.
• Learned the health department implemented its new billable program Aug. 1, which allows fees for vaccinations and other services to be billed through insurance companies for eligible clients.
• Approved a tuberculosis-testing guideline for local schools. The health board recommends TB tests of all high-risk individuals such as those who are foreign born. Ohio law allows each county to set its own rules as long as they meet the state's minimum requirements.
• Learned the health department will man a booth at this year's county fair.