Saturday, November 3rd, 2012
St. Henry pulls away to win battle of Redskins
Division VI Regional Football Quarterfinals
By Gary R. Rasberry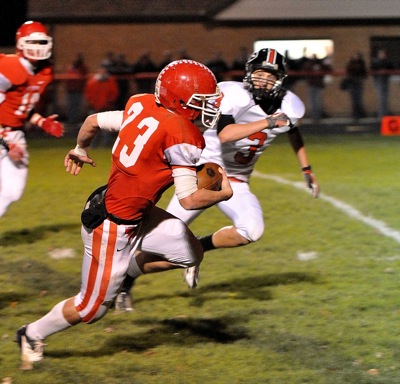 ST. HENRY - A 10-point burst in the final 30 seconds of the first half helped St. Henry's football team open the 2012 Division VI playoffs with a 45-21 win over Fort Loramie on Friday night at the Wally Post Athletic Complex.
St. Henry (8-3) will now face the Ada Bulldogs, who walloped Waynesfield-Goshen 50-15 at Lima Stadium, next Friday at a site that will be announced on Sunday afternoon. Fort Loramie ends the season with a record of 8-3.
St. Henry was up 14-0 in the second quarter when Fort Loramie's Zach Brandewie intercepted a Kyle Stahl pass and returned it 34 yards for a touchdown with 6:28 showing on the clock. On Fort Loramie's next possession, St. Henry's Tyler Schwieterman picked off a Seth Guillozet pass to give the Redskins the ball at Fort Loramie's 44-yard line. Stahl used a short passing game to push the Redskins down the field before Stahl hit Tyler Schwieterman with a three-yard touchdown pass with 33 seconds left in the opening half to put St. Henry in front 21-7.
On the first play of Fort Loramie's ensuing possession, St. Henry's Jordan Bender recovered a fumble and helped set up Alex Post for a 27-yard field goal to put the home team up 24-7 at halftime.
"I thought we really had control in the first half, then we threw the pick-six on the screen," said St. Henry's coach Jeff Starkey. "That got them back in the game, but we were able to score after that and then caused the turnover and were able to kick the field goal to go into the half up three scores. Felt pretty good about that."
"That was huge. That put us back in the game," said Fort Loramie's coach Matt Burgbacher of Brandewie's interception return for a score. That's all we wanted: for one of kids to make a big play, and Zach made the play. We had to have momentum, (but) came back with that interception. Little things like that play a big part in the outcome of the game."
On Fort Loramie's first drive of the second half, Guillozet was picked off by St. Henry's Dylan Rammel and that allowed St. Henry to add to its lead with the first of two Adam Reichert scoring runs. In the fourth quarter, Post, who was already 5-of-5 on PAT kicks, tallied a touchdown of his own on a 75-yard interception return that made the score 45-14 before Fort Loramie got a consolation score in the final seconds of the game.
St. Henry's defense shined. Fort Loramie's Delaunte Thornton, who had 1,200 rushing yards coming into the game, was held to just 12 yards on 11 carries with a two-yard touchdown in the third quarter.
"Man, is he physical," said Starkey of Thornton. "You can't let him get started. I thought we had the edge up front. We didn't want to let him get started."
St. Henry's offense racked up almost 400 yards and Stahl led the way completing 22-of-28 passes for 219 yards with three touchdown passes while also rushing for 76 yards. Reichert carried the ball nine times for 98 yards and two scores while snagging five passes for 72 yards and a touchdown. Bender had five receptions for 85 yards with Schwieterman adding 48 receiving yards on seven catches.
"They were really loaded up in the box to stop some of our quarterback runs," said Starkey. "They weren't covering down in the perimeter and we were taking what the defense was giving us."
"Kyle Stahl is a load," said Burgbacher. "We knew we would have to stop him to stay in this game, but Reichert hurt us to. They made plays."
Guillozet finished 20-of-32 passing for 235 yards and Jason Streib had seven catches for 134 yards.