Monday, February 4th, 2013
Celina knocks off St. Henry on Hoyng's OT game-winner
By Gary R. Rasberry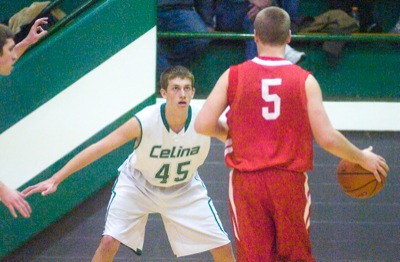 CELINA - Kyle Stahl's attempt to put the dagger to Celina for a second time this season just missed at the end of regulation.
Ryan Hoyng's payback basket in overtime did not.
Hoyng hit a running jumper down the middle of the lane just before the buzzer in overtime to give Celina a 62-61 victory over top-ranked St. Henry on Saturday night at the Fieldhouse.
Celina has won six of its last seven games and improves to 8-9 this season while St. Henry, the top-ranked team in Division IV, drops to 15-3 after its second straight defeat.
The Redskins got off to a great start as Jordan Bender hit a pair of three-pointers and Alex Post scored seven points in the opening eight minutes of play to help give St. Henry a 24-5 lead early in the second quarter.
Celina's Braden Billger then found his shooting stroke and helped the Bulldogs cut their deficit to 28-18 by halftime.
"The kids we got are starting to come around," said Celina's coach Chris Bihn. "I think early we had good looks that weren't falling. I think we had guys that stayed with it, got the looks and kept shooting. That's one of the things in the past, once things didn't fall, we weren't as aggressive and didn't shoot. I think we're getting through that."
Billger, Matt Buschur and Arik Fickert kept the Celina momentum rolling to start the second half and Buschur's hoop-and-harm three-point play with 1:41 left in the third quarter tied the game at 40-all.
"Celina hit some shots and we got a little bit careless on defense," said St. Henry's coach Eric Rosenbeck. "They were running the high-ball screen. We didn't do a strong job of stopping it. Hoyng was making shots. Billger was making shots. Offensively, I think we had 18 turnovers."
St. Henry led 44-42 to start the fourth quarter, but Celina quickly went in front 46-44 after a free throw from Mason Ross and a three-pointer by Grant Laffin with seven minutes to play in the game.
The teams battled back-and-forth with Billger scoring at the two-minute mark to tie the game at 53-all. Stahl, who hit a three-pointer to beat Celina at the buzzer in the semifinals of the Asset Allocations Associates Classic at Coldwater in December, had an open look to do it again, but his missed trey at the buzzer sent the game to overtime.
"First time was bad enough," said Billger, referring to Stahl's game-winner in December. "If he had made it a second time, I don't know."
The teams traded the lead back and forth early in the overtime, but St. Henry got a bit of a burst as Stahl got a pair of buckets and Kent Hemmelgarn added a pair of free throws to make it 59-55 in favor of the Redskins with 1:29 on the clock. Hoyng's three-pointer cut Celina's deficit to one point with 59 seconds left in the game.
After Post put the Redskins on top 60-58 with a free throw, Hoyng tied the game for Celina as the sophomore drove the lane, was fouled and made both free throws with 25.6 seconds showing on the clock.
On the Redskins' ensuing possession, Ryan Mikesell drove the lane and was fouled. Mikesell missed the first free throw but got the second to fall with 4.5 seconds left in the game to give St. Henry a 61-60 advantage.
Hoyng then got the ball on the inbounds pass and dashed down the court before driving into the lane and putting up a shot over Mikesell and Stahl at the buzzer for a Bulldogs' win.
"I just knew there was four seconds left on the clock," said Hoyng. "I just tried to get into the paint and penetrate. I thought that was the best shot for us. I just threw it up and it bounced in."
"We had that set up for Ryan to penetrate as deep as he was, and we had Bilgs (Billger) spotting up for the shot," said Bihn. "Ryan was able to get in there and get a good look at the end, probably an eight-footer, and shot it up over St. Henry. Fortunately, it went in."
"Hoyng deserves a lot of credit," said Rosenbeck. "He just made a great shot over Kyle, who's 6-4 and Ryan (Mikesell), who's 6-5."
Billger scored a game-high 18 points to lead the Bulldogs while Hoyng added 17.
Mikesell paced St. Henry with 17 points, Bender added 15 with Post scoring 12. Stahl was held to nine points.
"Our guys battled their tails off at the end," said Rosenbeck. "They refocused. We have to get the focus back for the entire game."
Celina hosts Kenton in Western Buckeye League play on Friday, while St. Henry travels to Rockford for a Midwest Athletic Conference encounter against Parkway.