By JANIE SOUTHARD
jsouthard@dailystandard.com

If you didn't see Mars early Wednesday morning, you missed it at its absolute closest to Earth in 60,000 years, but all is not lost.
The planet will be in good sight for several weeks and even better views are coming this fall when the temperature cools.
"Wednesday morning (was) just a statistics chase — just to say you saw it at its closest (34,646,418 miles from Earth)," amateur astronomer and deep space photographer Bill Grunden of St. Marys told The Daily Standard on Monday afternoon.
Too much "junk" in the air, he claims, make the planet fuzzy at this time of year.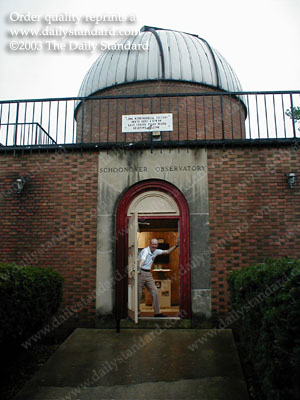 "Heat and humidity distort things right now. It's like looking through the shimmering heat that rises off the road in the summer," he said.
But what's so great about all the Mars hype is that people are a lot more interested in space.
"Interest in Mars and astronomy in general is really cookin' right now and that's good," the retired St. Marys police officer said.
Grunden, who now owns an impressive telescope and viewing equipment, said when he first became seriously interested in astronomy about a decade ago he could hardly locate the moon through his scope.
Now he's had several space photos published and seems eager to get everyone, especially kids, looking up.
"You can definitely see Mars now with any telescope, binoculars or the naked eye. I'll look too, but I'm not all wound up about it," he said, again underscoring the view is going to get better later.
M.D. Wilson of the Lima Astronomical Society agreed the view now is fuzzy.
"But Mars is a unique, tantalizing planet any time you see it," Wilson told The Daily Standard on Tuesday at the Schoonover Observatory in Lima.
The orange disk, fourth planet from the sun, has a way of teasing the viewer.
"You look and stare, look and stare through the telescope and its always fuzzy because, of course, you're looking through about 50 miles of atmosphere.
"But, suddenly, for a split second, the atmosphere clears and there it is. You see definition. It's an unforgettable sight," Wilson said.
Although you won't have to wait another 60,000 years for a close encounter with Mars, no one living today will see it the next time it's really close in 2287.
So, why is it so close now?
With apologies to all mathematicians, the simple answer is crazy orbits have linked up.
Although all planets orbit the sun at different speeds, the orbits are not circles. They're more oval (elliptic).
Mars' orbit is more off center than Earth's, which brings them closest every 26 months.
Why 26 months?
Earth makes a complete orbit in 365.25 days. The complete Martian orbit is 687 Earth-days, about twice as long. Thus, it takes about two years for the two orbits to get as close as they're going to during that period.
Wilson said some years close means as much as 63 million miles.
So the red planet now begins its drift away. In October 2005 the closest distance will be 43 million miles; in December 2007, it's 55 million miles; and March 2012, it's 63,000 miles.
By the way, Mars appears red for the same reason Georgia is red.
"Iron-rich soil," Grunden said.