[ PREVIOUS STORIES ]
08-29-03: Anderson family refiles wrongful death suit
By SHELLEY GRIESHOP
sgrieshop@dailystandard.com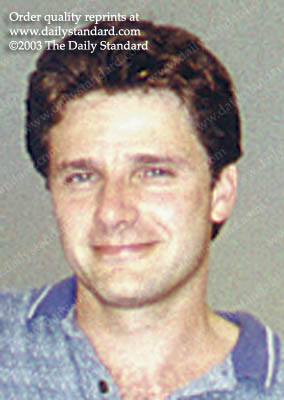 The family of Brent Anderson has refiled a civil lawsuit seeking monetary compensation for the shooting death of their son in September 2001.
The family seeks "vindication" for Brent Anderson, a former Celina attorney, "and seeks to hold Kimberly Anderson accountable for the killing," reads a statement to the media from the family's attorney, Dale K. Perdue of Columbus.
"Brent's family cannot permit the one-sided story presented at the criminal trial to be Brent's final legacy," Perdue told The Daily Standard on Thursday. "They want the record set straight that Brent was a kind, sensitive and caring man who did not deserve to be gunned down in the prime of his life."
Brent Anderson's wife, Kimberly Anderson, 38, of Wapakoneta was acquitted of a trio of murder charges during a seven-day criminal trial in Defiance County in October 2002. Neither she nor her attorney, Rob C. Wiesenmayer of Wapakoneta, returned calls from The Daily Standard seeking comment on the recent filing.
Perdue's media release also states: "Family members believe the jury acted on sympathy, not on the facts. ... the jury saw a mother of four children and simply could not bring themselves to convict Kimberly Anderson."
The civil lawsuit claims Kimberly Anderson shot Brent Anderson intentionally to end his life. A period of time elapsed between the first non-fatal bullet fired upon Brent Anderson and the seven subsequent shots, it states.
"During this time, the decedent (deceased) was in mortal fear for his life and experienced physical pain, suffering and severe mental anguish," Perdue wrote.
The family filed a similar lawsuit weeks after the shooting, but dismissed it in March, citing personal reasons. Perdue beat the court deadline to refile the suit by five days.
The recent lawsuit lists Brent Anderson's brother, Kevin Anderson of Cincinnati, as plaintiff. The lawsuit seeks a total in excess of $50,000 and "special, compensatory and punitive damages" on behalf of the couple's children, Erik, 5, and Ryan, 3, Brent Anderson's daughter from a previous relationship, Justine, 14, as well as Brent Anderson's parents and siblings.
Brent Anderson was the son of Warren and Betty Anderson of Celina. He also is survived by four brothers and five sisters.
Kimberly Anderson has retained custody of the couple's two children, as well as two other children from a previous marriage, since the shooting two years ago.
Throughout the trial last fall, Kimberly Anderson testified that she argued with her estranged husband that Labor Day weekend after telling him she suspected he had molested one of the children. She said he chased her into an upstairs bedroom where she shot him eight times in self-defense.
The recently filed lawsuit counters Kimberly Anderson's claims of self-defense. Perdue states evidence at the trial shows Brent Anderson was never physically violent or abusive during the couple's three-year marriage. He also notes Kimberly Anderson had both a telephone and a loaded gun when she pursued her unarmed husband into a walk-in closet after already wounding him with the first shot in the bedroom area.
In May, Kimberly Anderson filed a motion to seal all records relating to the criminal case. Her attorney, Alan Konop of Toledo, argued that his client was trying to "get on with her life" and deserved her right to privacy.
Perdue notified the court in a letter objecting to the motion on the grounds he intended to refile the civil suit and would seek access to all information and evidence in the case.
On Aug. 8, Auglaize County Common Pleas Judge Frederick Pepple denied the expungement of Kimberly Anderson's records and upheld the right of public access to information in the high-profile case.
Phone: (419)586-2371, Fax: (419)586-6271
All content copyright 2003
The Standard Printing Company
P.O. Box 140, Celina, OH 45822