[ PREVIOUS STORIES ]
08-29-03: New Bremen woman Rockettes to fame in Big Apple
By SHELLEY GRIESHOP
sgrieshop@dailystandard.com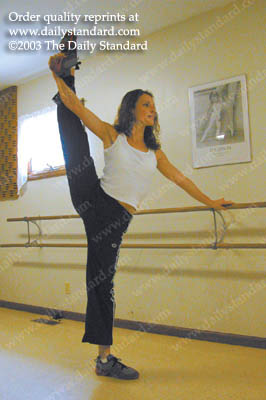 NEW BREMEN — Erin Boyd remembers watching The Radio City Rockettes on television, marching side-by-side in perfect sync in the Macy's Thanksgiving Day Parade.
She was 4, and awestruck. "I'd tape it every year, they were my inspiration," she said.
Three weeks ago, the 23-year-old's dream of becoming one of those high-stepping world-famous dancers came true. After two days of intense auditioning in New York, she got the call.
"I screamed," she admitted with a smile. "I don't think they even got a chance to tell me I had made it. I just knew. I had this gut feeling."
A 1999 New Bremen High School graduate, Boyd will begin rehearsal with the Rockettes in early November at the Radio City Music Hall in New York City. Her first big production with the famous dance troupe will be the Christmas Spectacular this holiday season.
"I can't wait for that moment, I hope I don't faint," she said with a laugh. "I'll be bubbling over."
There are two groups of Rockettes, one blue and one gold. The gold cast, into which Boyd was inducted, receives a few more perks and handles more publicity work, she said.
The famed Rockettes were created by Russell Markert, who in 1925 began in show business with 16 women — today there are 36. Their lavish costumes, precision drill routines and leggy chorus line have made them a hit in many Broadway productions. Many people know them as the girls with long legs and the signature hats with long, white plumage.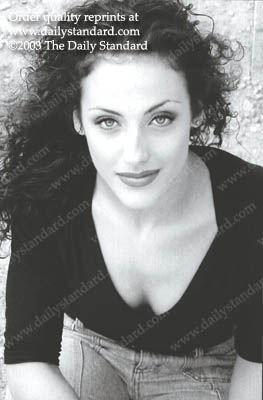 Hundreds of women audition for the Rockettes each year. To qualify, you must be at least 18, between 5 foot, 5 1/2-inches and 5 foot, 101⁄2 inches tall, and be proficient in tap, jazz and ballet.
It's been a long road for Boyd, even though the beautiful blue-eyed brunette seems to have a natural dancing talent.
"I pretty much got my rhythm while in my mother's womb," she joked, during an interview this week in her family's living room.
Her mother, Rhonda Boyd, who never danced professionally, has operated Rhonda's School of Dance in New Bremen for 25 years. The family added the dance studio onto their home on North Herman Street when Boyd was only 5.
"Mom couldn't get me out of there," she said with a laugh. "I was always teaching myself flips and putting on shows, being creative."
She began competing in dance contests at age 9, and by the time she entered fifth-grade, she knew dancing was her calling.
"By entering contests with my other students, Erin was exposed to professionals," Rhonda Boyd said. "The professional dancers were good people who got to travel a lot. Erin wanted that life."
At 12, Boyd was chosen by the All American Dance Team to perform at the Hula Bowl in Honolulu, Hawaii. Later as a high school freshman, she accompanied the national group in the same Macy's parade that she dreamed about as a child.
"It was my first trip to New York. I knew I wanted to become a Rockette and live there. I loved it," Boyd said.
While her fellow high school seniors were choosing colleges, Boyd headed for Hollywood for dance training. Three months before graduation, she auditioned in Chicago for Disney Studios.
"Erin came flying out in the hallway saying they wanted her for a Tarzan show," her mother said. "She had made the cuts. It would have been her first real dancing job."
But there was one hitch.
"I looked at mom and said, 'But I have to graduate and I have the state track meet,' " Boyd said.
A state finalist in the high jump, she turned down the Disney job explaining she was only in high school.
But the experience wasn't in vain. She now knew she could do it, she could compete with the best. It just wasn't her time — yet.
After graduation she landed numerous jobs in places like the Country Tonight Theater in Pigeon Forge, Tenn., and on the Celebrity Cruise Line ships. She also danced in the show "Imagine" at Caesar's Palace in Atlantic City, and later in "Storm" in Las Vegas where she met her actor/singer boyfriend, L.J. Jellison.
In December, she danced in the Broadway show "42nd Street" in New York after working for months as a professional dance teacher in several states including Michigan and Tennessee.
Perhaps one of her more unusual auditions occurred in February 2001 when she tried out for singer Madonna's World Tour in New York City.
"Dancers were lined up for four city blocks waiting their turn," said Rhonda Boyd, who accompanied her daughter to the audition. "Thousands of them."
After cuts, cuts and more cuts, Boyd made the final 15, but not the final five, she said.
"They told me I was too tall," she said, shaking her head as she looked down at her 5-foot, 6-inch frame. Taller dancers might upstage the much shorter Diva star, she explained.
"That's when they told me I would have had to shave my head for the job. I said, 'We're fine, this is OK,' " she said with a grin.
Rhonda Boyd said her daughter has always been self-assured, really focused.
"You have to have confidence and be ready to work. Rehearsals can be excruciating — 12-hour days sometimes for three weeks straight," the young dancer explained.
Her parents don't think the stardom has gone to their daughter's head. They see her as the same small-town girl that twirled about in her mother's studio just a few short years ago.
Boyd smiled at her mother's compliment.
"I've never forgotten what my dad (Kenneth) always told me, 'Make sure your hat always fits.' "
— For information or tickets to the Rockettes shows, visit their Web site at www.radiocity.com.
Phone: (419)586-2371, Fax: (419)586-6271
All content copyright 2003
The Standard Printing Company
P.O. Box 140, Celina, OH 45822