[ PREVIOUS STORIES ]
08-29-03: Celina wins girls title at county meet
By MARC TOBIAS
mtobias@dailystandard.com

Coldwater's Jill Vonder Haar ran away with the girls individual title at the Mercer County cross country invitational, but it was the Celina girls that took home the team title.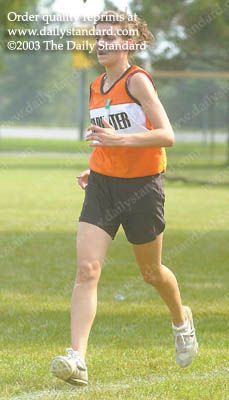 Celina won with a team total 30 points, 11 better than second place Coldwater. Marion Local was third with 51 points, followed by Fort Recovery's 126, and Parkway's 137.
Vonder Haar won easily with a time of 21:33, which was 33 seconds better then her next closest competitor.
"I wish my time was a little bit better, but I think it was pretty good," Vonder Haar said. "I'm just happy that my team worked together and they worked hard, and I'm just really proud of them all."
Vonder Haar, like many of the athletes who finished the race, then went back to the course to cheer on competitors from her squad as well as other schools teams.
"I like the cheering, and I think they deserve it just as much as I do," Vonder Haar said. "It usually helps me and I just figured it could help them."
Celina took the team title, and was paced by a couple very fast times from Brittany Wenning who finished second, and Amanda Smith's third.
"I'm happy, it's kind of hot, but I'm happy with it," Wenning said. Wenning's time was a 22:06, and the Celina representative said a large hill they were forced to run over twice didn't make the humid race much easier.
"That's killer," she said with a laugh, "But I'm hoping to break 20 (minutes) this year, and I got a 22 something so hopefully I can get that down somewhat."
Celina coach Lore Long said she was pleased with the way her girls ran in their first meet.
"They stayed in a pack better than I expected, so that's a good thing and means we have a lot to build on," Long said. "Our first five runners were all within like 50 seconds of each other, which was really good."
Long pointed out Smith's race as one of the better on the team.
"She's always way behind at the beginning and then way in the front at the end, she's our smartest runner," Long said. "I always tell our girls if they're going to pace off somebody then they need to pace of off her."
Also helping the Bulldogs cause was Heather Waterman and Heather Petrie who finished seventh and eight respectively while Kara Osterfeld finished 10th.
Rounding out the top five were Coldwater's Tasha Stucke in fourth and Marion Locals Deanna Kremer in sixth. The Cavaliers Renee Hemmelgran finished ninth.
"I'm very impressed with our girls, we have some positive thoughts about the season and high expectations as far as the MAC and where we want to be, and we're starting right where we want," said Coldwater coach Dan Pohlman. "We're hoping top three and maybe we can pull an upset, they've had a great start this year they're doing awesome so we're excited."
The 11-20 finishers were led by Marion Local's Holly Fortkamp and Stacy Evers. They were followed by Coldwater's Lisa Hemmelgarn and Lexi Klenke. Celina's Jen Blacketer and Katelin Smith were next, with the Flyers' Terri Feltz and Trina Bruns in the 17 and 18 spots. Celina's Kate Vermeersch and Marion Local's Kelly Rosenbeck rounded out the top 20.
Phone: (419)586-2371, Fax: (419)586-6271
All content copyright 2003
The Standard Printing Company
P.O. Box 140, Celina, OH 45822