By RANDY BRUNS
Standard Correspondent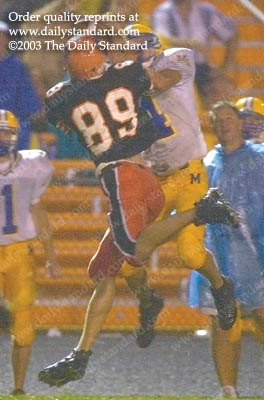 COLDWATER — The 50th installment of the Marion Local-Coldwater football rivalry could go down as one of the more exciting games in the series, as long as the person doing the judging doesn't put too much emphasis on offensive statistics.
The Cavaliers scored the game's only points halfway through the fourth quarter to defeat the Flyers 7-0 in a game played partly during a driving rainstorm.
Coldwater, which now owns a 25-21-4 advantage over Marion in the series, ran its record to 2-0 and 1-0 in the Midwest Athletic Conference, while Marion falls to 1-1 and 0-1.
The conditions dictated a defense-oriented game, and that's exactly what those in attendance got to see. The two teams, which normally showcase high-powered offenses, generated just 196 yards of total offense between them, including a minuscule eight first downs. As a result, punting statistics were way up, with Marion booting it away ten times and Coldwater 11.
The play of the game came after a short Marion punt gave Coldwater excellent field position on Marion's 49-yard line. Quarterback Alex Hoyng dropped back and fired to Josh Fullenkamp on the left sideline, where the senior gathered it in and scampered for the score.
Before the snap, Fullenkamp had appeared to flinch slightly, but no flag was dropped, likely because the officials determined that enough time had elapsed between his movement and the snap of the ball. Marion coach Tim Goodwin and the Flyer fans protested vehemently, but to no avail. After the game, Goodwin declined to comment on the no-call.
Despite the lack of offense, both teams had some decent chances to score. In the first quarter, Brian Wellman intercepted a Hoyng pass and returned it to the Coldwater 40. One play later, Flyer quarterback Cory Luebke lofted a ball that Wellman grabbed and brought down to the 20. The Coldwater defense stiffened, though, and Marion turned the ball over on downs.
Coldwater got the next chance early in the second half. Junior Kyle Schoenherr returned a Matt Prenger punt 43 yards to the Flyer 17-yard line to give the Cavaliers their best field position of the night. After two running plays and an incompletion, sophomore Trevor Stromblad was called on to try a 29-yard field goal. The snap was bobbled, however, and Stromblad's kick sailed straight into the Marion defensive front.
The Flyers got another shot at paydirt three possessions later, when Luebke and Wellman again hooked up for a long pass play, this one going 53-yards to bring the ball to the Cavalier 28. Once again the Cavalier defense was up to the task and stopped the Flyers without a first down.
"We played hard and our defense hung in there," said Goodwin. "Obviously the conditions weren't there for offensive football, but we had so many chances and made so many mistakes that it's just mind-boggling. Inexperience, field conditions, and a tough defense, put those three together and that's what you get."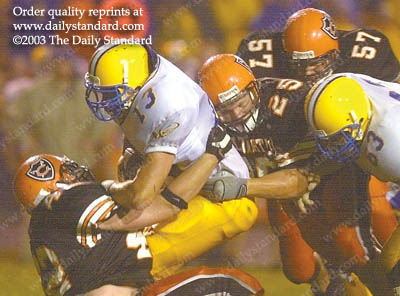 Coldwater coach John Reed saw his offense struggle for the second week in a row, but once again his defense came to play.
"I was happy with our team's effort, the defensive play, and our special teams," said Reed. "Offensively we don't function nearly as well in wet conditions because of what our game plan is, but this is the second week in a row that we've been very frustrated offensively. I can't say enough about our defensive front people. We have a lot of inexperienced kids playing for the first time. Joe Huwer returns as a defensive end, but the rest of those guys are all inexperienced, and they're really showing up big."
Especially early on, Marion tried to neutralize the field conditions by going to the ground game, but found little success there.
"I was really disappointed in that because (Coldwater) didn't do anything different," said Goodwin of his team's running woes. "They still ran their basic defense and we didn't get it done. This is basically like our first game, and we have a lot of improving to do. We have to find our identity offensively and see what we're going to be good at, and we're still looking."
Reed had special praise for Fullenkamp, who scored Coldwater's winning touchdown for the second week in a row.
"Josh was frustrated after a couple passes he felt he should have caught, but the rain made it extremely difficult," said Reed. "He came back and made the big play, and that's a real sign of an outstanding player."
Coldwater will now take the road for a Friday matchup with New Bremen, while Marion returns to Booster Field where it will host St. Henry.