By LYLE KITTLE
Standard Correspondent

Celina battled its way through to the championship match of the 2003 Casad Invitational volleyball tournament, only to come up short to champion Bowling Green.
The Bulldogs improved to 3-1 on the season as a result of the three-match day. Coldwater, which took seventh place by defeating Xenia, drops to 2-3 for the campaign.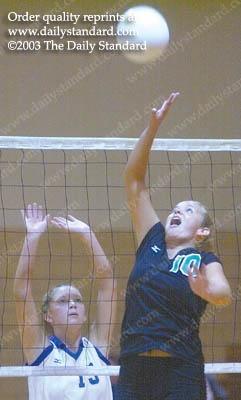 Celina took the lead in the opening game of the championship match as Bowling Green experienced problems handling Traci Stoner's serves. Stoner served the Bulldogs to a 4-0 lead before the Bobcats got their chance.
Bowling Green picked up a single point when Celina returned the ball beyond the Bobcats backline. Two BG hitting errors pushed Celina's lead to 6-1, and the Bulldogws stretched their lead to 9-3 with Kelsey Fleck serving.
Momentum took a major change with tournament Most Valuable Player Elizabeth Simon serving for the Bobcats. Bowling Green cut the lead to 9-6, and took the lead, 10-9, with Ashley Barr serving, and added two more points for a 12-9 edge.
Both teams battled to a 13-12 Bowling Green lead before Simon served the final two points for a 15-12 Bobcat win.
The second game followed much the same pattern, with Celina taking a 6-0 lead, thanks to Bobcat hitting errors and strong play at net from Kelsey Fleck and Jamie Siefker. Bowling Green whittled away at the lead, with the score at 12-6 in Celina's favor before things went awry.
The Bobcats rolled off nine unanswered points. Five of those came off the serves of Callie Maas and featured four points from Celina hitting miscues as Bowling Green captured the second game, the match and the title.
"I think we need to figure out why we can get to 12 and then not go on," said Bulldogs' coach Nikki Taylor-Etzler. "We need to figure out in practice what it's going to take to get the final three points. I think we started out strong in each of our matches. Our serve-receive was strong, we did a number of things well."
The Bulldogs advanced to the title game by beating Xenia, 15-2, 15-6, in the opening round and topping Whitmer, 15-12, 15-3, in the second round.
"The hustle from our setter, Traci Stoner, was a big plus," Taylor-Etzler said. "I expected it, so it wasn't a surprise. It was a big part of our offense, getting the ball to where it needs to be. She's a leader. She gets the ball where it needs to go, she leads on defense, she means a lot to the team. If we would have won, she'd probably have been the MVP."
Coldwater was left to play in the middle school by being stopped in the opening round of the tournament by Bowling Green, 15-7, 15-8. Coldwater lost to Lima Central Catholic in the second round, 15-8, 15-11.
The Cavaliers finally got things turned around in their final match against Xenia, posting a win by scores of 15-1, 15-1.
"In the first game (against Bowling Green), it was almost like we're playing just well enough to be in it," said Cavaliers' coach Jeannette Vaughn. "Mentally, we made a number of mistakes and struggled with our serve-receive. We could never get our offense going, we never took control of things. Our passing wasn't good enough to get an attack going."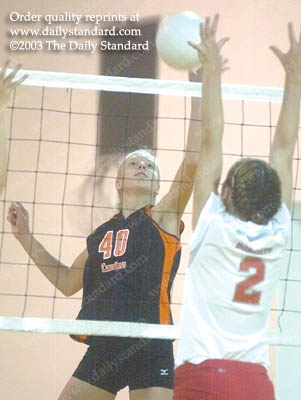 The Cavaliers were close in the opening game of the match with BG and led the second game in the early going.
"We started off pretty even," Vaughn said. "We let them roll off some points and things just went from there. We have to be able to put teams away if we get the chance. They (BG) were strong offensively and just picked us apart. I was a little disappointed with how we played against LCC. That could've been a big win for us and that should have been a win for us.
"We struggled with communication, we let some balls drop that shouldn't have dropped. We finally got things turned around in the last match. We were able to run some things we were working on and we ran them pretty successfully."
Simon was the MVP on the seven-player all-tourney team. She was joined by Bowling Green teammates Meggie Marten, Ashley Barr, and Callie Maas and Celina's Stoner, Kelsey Fleck, and Sarah Lange.