By MARC TOBIAS
mtobias@dailystandard.com

COLDWATER — The Celina girls tennis squad battled mother nature's elements last night, and took a 2-0 lead in their match against Lima Bath before darkness and a wet court suspended play.
The Bulldogs received victories from their first and second singles squads, while their third singles and both doubles matches were halted roughly at the midway point.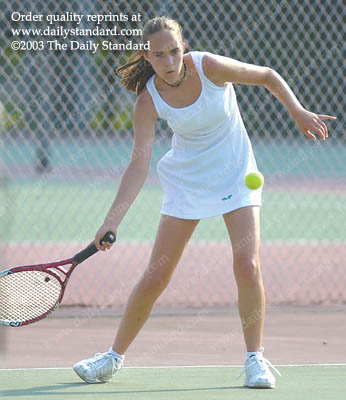 "We had momentum, so of course I would have liked to finish," said Celina coach Jan Morrison. "I think you'd have to like our chances of winning, but I think we'll be ready to go again whenever that is."
The remaining matches have yet to be assigned a make-up date.
Bath coach Jaye Bumbaugh said the delay may be good for his girls, as it allows his squad a chance to regroup.
"This match is still in doubt, we're still in the match, and it (delay) could be to our advantage it's just hard to say," Bumbaugh said. "I think we know we can play with them. That's important because they know they can still win this, they're not out of the match."
The two matches that were finished, saw Celina's first singles Kelsey Fleck and Amy Zender dominate their opponents.
Fleck defeated the Wildkittens' Jessica Gullette 6-1 and 6-0, while Zender knocked off Caitlin Kohli 6-0 and 6-1.
"My serve was going pretty well, I had an ace and my backhand was hit pretty well," Fleck said.
Fleck has played better recently, moving her singles record to 5-3, but the Celina ace said the entire squad has stepped up as of late.
"At the beginning of the season we were moving people around, but now that we have a set lineup and know what we're doing, we're playing a lot better than we were the first couple of matches," Fleck said.
One of those players is Zender, who has battled to move her record to within one win of the .500 mark, at 3-4.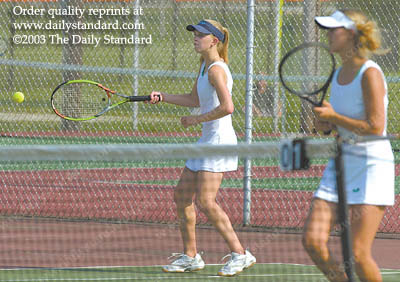 "Zender is a real deliberate and patient player," Morrison said. "She doesn't make many unforced errors, she doesn't hit with a lot of pace, but she makes somebody beat her. She won't beat herself."
Samantha Heckler was playing third singles for the Bulldogs, and just missed ending her match last night. Heckler took the first set 6-3, before dropping a heartbreaker in the second 5-7 to Bath's Jennifer Bowman.
Celina's first doubles duo of Amanda Starnes and Jen VanTilburg also find themselves in a battle, but they are up a set. The two took the first set 7-6 when they won a tiebreaker 9-7. They lead Bath's Erin Staley and Kelsey Degen 1-0 in the second set.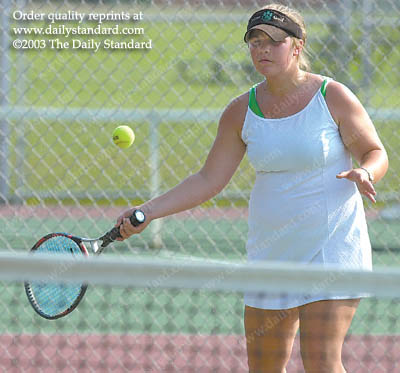 "Nice to win the tiebreak, that was back and forth and took some character to pull that one out at a 9-7 breaker," Morrison said.
Celina's second doubles are faring well after a tough start. The Bulldogs dropped the first set 1-6 to Bath's Casie Burkhart and Tracy Alt, but came back strong winning the second set 6-3 while leading in the third 3-1.
"I was happy that second doubles was able to turn it around, they went down 1-6 and then came back at 6-3," Morrison said.
Celina is back in action Thursday when they travel to Ottawa-Glandorf.