By MARC TOBIAS
mtobias@dailystandard.com

Celina was able to pick up a very important 4-2 victory over Kenton 3-1-2 (1-1-1 WBL) in Western Buckeye League boys soccer last night to move themselves back over the .500 mark in league play.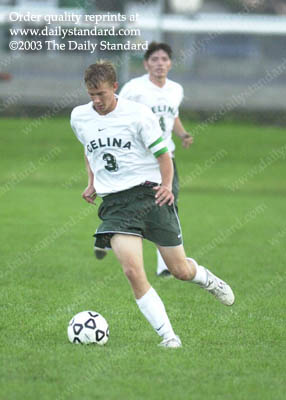 With the win, the Bulldogs 4-3 (2-1 WBL) now find themselves in the thick of the WBL race as league leaders Defiance (2-0-1 WBL) and Shawnee (2-0-1 WBL) went to a 1-1 tie last night. Elida (2-0-2 WBL) also remains unbeaten in the league after a 9-1 win over Bath last night, although it has a pair of ties, one of which was against Kenton.
"We needed this win, they beat us last year up there 4-3, and we haven't been showing well at times this year," said Celina coach Bruce Strine. "I felt we sort of underachieved and maybe we're stepping up now. I hope this is something that we can use to turn a corner in the WBL."
Celina put its WBL contest away in the first half against the Wildcats as all four Bulldogs goals came in the first 40 minutes of play.
In the sixth minute, Brady Heyne scored on a beautiful pass from Alex McKirnan. McKirnan slid a pass from midfield into the 18-yard box that Heyne was able to slide past starting Wildcats keeper Austin Heil.
Three minutes later, the Bulldogs took a two-goal lead off a perfectly executed set piece.
Chad Strine took a Celina corner kick and put it right on the 6-yard box where an on running Jeremy Johnson headed the ball down into the goal.
In the 14th minute, it was McKirnan's turn to finish off a goal. Strine played a ball from 40 yards out over the top of the Wildcats defense, McKirnan gained possession on the right side of the field before burying a shot in the lower right side of the goal.
Seven minutes later, the same duo hooked up again. Strine once again played a right to left bending ball over the Wildcats defense, although this time it was a little closer to goal. From around 10-yards, McKirnan flicked the ball out of the air with his right foot and past the Kenton keeper.
"That was sweet, that was a nice chip from Chad and right to McKirnan's foot, a nice little touch, little deflection," Bruce Strine said. "That was a pretty goal, I'm looking forward to seeing that on the video."
McKirnan finished with two goals and an assist while Chad Strine tallied three assists.
"We finished well for really the first time this year," Bruce Strine said. "We took advantages of opportunities we had. We had nice through balls, nice touches on the ball we we're executing our runs and it paid off. We we're hungry for this and we needed it."
Celina's play in the first half was near flawless, as they recorded 12 shots, 10 of which were on goal.
The Bulldogs defense, meanwhile, held Kenton to just one shot attempt while forcing three offside calls in the first 40 minutes.
"We worked a different formation tonight, we've been working a flat back and we've been getting beat, so we went back to what the guys know best and the defense did a pretty good job," Bruce Strine said. "But we're running really a flat back with a sweeper (Eric Klosterman). So that sweeper has the opportunity to step up for that offside, and it worked for us tonight."
Strine said it's Klosterman's call to play the offside trap or to stay back.
"When you go out and play the first half like your a walking zombie things aren't going to go your way," said Kenton coach Jamie Bartlett. "We got them in at halftime, had a little heart to heart with them and obviously the second half they responded very well and I thought we controlled the game, we put in two goals. It's just a four goal lead is a lot to come back from."
Kenton's first goal came in the 65th minute when Chris Bash played a ball through the Celina midfield to Jarrett Hottman. Hottman used his speed to dribble inside the Celina goal area where he ripped a shot into the net.
The Wildcats scored a second goal with six minutes to play off a penalty kick.
Celina is back in action when they host Bluffton on Saturday. The Celina girls varsity will host Bluffton at 10 a.m., with the jayvee boys playing at approximately 1 p.m. The boys varsity is scheduled to start at 3 p.m.