By RYAN HINES
rhines@dailystandard.com

After winning back-to-back Division IV state titles in dominating fashion, the Kenton Wildcats appear to have fallen back to the rest of the pack this season.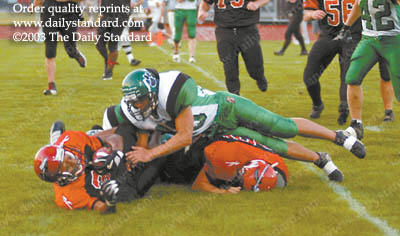 Kenton stumbles into week four of the season at 1-2 overall and 1-1 in the Western Buckeye League. This week, the Wildcats make the trip to Celina to face a Bulldogs (2-1, 1-1 WBL) team that's coming off their first loss of the season.
Don't put a lot of stock into Kenton's record, since last year the Wildcats entered week four of the regular season at 1-2 and went on to win the next 12 games along with a second straight state title.
The difference this year is that Kenton doesn't have 2002s Mr. Football at quarterback in its spread offense.
Ben Mauk, who's now a freshman at Wake Forest, threw for a national record 17,523 yards in his high school career, including 454 passing yards with six touchdowns and 139 rushing yards against Celina last season.
The new quarterback for Kenton this season is the converted Billy Cozad who was a sensational receiver for the Wildcats last year. Cozad (5-11, 175, senior) has been inconsistent in the pass-happy Kenton offense thus far this year completing just 23-43 passes for 502 yards and just six touchdowns to go along with three interceptions. He also has 147 rushing yards on 37 attempts.
"When you lose an exceptional player like Mauk was, you've got to realize that he's a once in a lifetime player," said Fell. "The Cozad kid is a good athlete that runs well and has a strong arm. He'll run a lot of option at quarterback too."
Cozad struggled in week one against a good Coldwater team going just 8-for-21 passing for 122 yards, one touchdown and three interceptions. Things looked much better for Cozad in week two against Elida as the signal caller was 10-for-10 passing for 244 yards and four touchdowns. Then, in week three the numbers fell again as Cozad was just 4-for-9 with 79 yards and one score.
Inexperience must be the reason for the slow start for Cozad, because it can't be that Kenton doesn't have enough weapons around him at wide receiver.
Tommy Petitt, D.J. Underwood, Braden Spivey and Nick Auger give the Wildcats one of the most talented wide receiving corps in the entire state.
Petitt (5-11, 205, junior) is the go-to receiver after 100 catches, 1,899 yards and 26 touchdowns last season. Underwood (6-1, 175, senior), Spivey (5-10, 170, junior) and Auger (5-5, 145, senior) combined for 158 catches, 2,575 yards and 22 touchdowns.
"There is a lot experience from their receivers," said Fell. "They've been there a few years now and it will be a tough challenge on the defensive backs. Spivey and Petitt are the two you have to focus on."
At times, the Kenton offense has gotten conservative for their normal style by just sending out three or four receivers and actually having a running back in the backfield. Zach Jackson (5-10, 235, sophomore) just gives the Wildcats one more option on offense.
The talk before the season was about the defense for Kenton as the Wildcats returned eight starters from a team that allowed just 19.1 points per game last year. The defense has been average allowing 16.3 ppg. on the season.
Linebacker Chase Hommel (5-11, 210, junior) and defensive end Nick Parr (6-1, 235, junior) are the leaders of the defense.
"Kenton has the best defense that we'll face this season," lauded Fell. "They're an aggressive defensive team that likes to hit hard and let you know they can hit hard. They got a lot of their defense back from a year ago and they are bigger and stronger."
The potentially potent offense that Celina unveiled in week one, has slowed up considerably with scoring just 13 points the past two weeks, including a shutout against Shawnee last week.
If the Celina offense is going to get back on track, it'll take a better effort from the Bulldogs offensive line. After opening huge holes in the running game in week one, the holes just aren't there for Celina anymore and Joe Kanney has little time at quarterback to find an open receiver.
Having already suffered one loss in league play, Celina's offense must execute better if the Bulldogs hope to stay afloat in the WBL title race and Fell knows it.
"Last week was a tough loss but we've got better in practice this week," stated Fell. "We got humbled against Shawnee."
The Bulldogs were hit hard by injury from last Friday as starting running back and leading rusher Kyle Schott is out of the year with a broken right ankle.
"When something like this happens to a kid like Kyle, it's tough to deal with because you know all of the hardwork that he put in to get ready for this year," explained Fell. "He's an excellent young man and it's a big hit to the team."
Kelly Mallory will likely lineup next to Brady Bonifas in the Celina backfield now with Brian Gagle also seeing some time as well. When Gagle is in the backfield, Ryan Byers will occupy the third receiver spot in the offense.