By JANIE SOUTHARD
jsouthard@dailystandard.com

COLDWATER — When 16-year-old Adam Timmerman accompanied his brother-in-law John Evans to Kentucky to jet ski on Lake Cumberland in early August, he had no idea this would be the trip where his knowledge of CPR would save a life.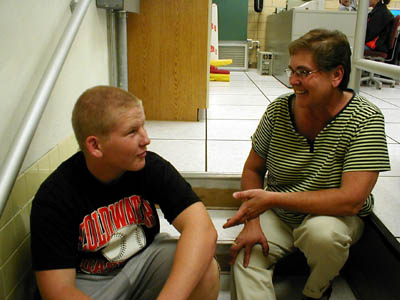 Gary Burton Jr. of Burnside, Ky., along with his father and another man were bringing their boat in off the lake trying to beat an approaching thunderstorm when Burton, 18, was struck by lightning.
"They were almost at the ramp when lightening hit (Burton) in the shoulder and came out below his knee," Timmerman told The Daily Standard last week. "They got him on shore and I think he was in shock. I knew for sure the guy doing CPR on him was doing it wrong."
Under the tremendous emotional strain, Burton's father was the one administering CPR.
"You could tell the dad was all shook up," Adam recalled.
Timmerman joined forces with others at the scene and took over the CPR operation which physicians later acknowledged saved Burton's life.
Adam said he didn't feel nervous about the situation and his CPR knowledge didn't falter. He knew what to do and he did it. He and a couple other guys spelled each other in performing CPR for the five minutes or so it took the emergency squad to arrive.
"At first you couldn't tell if he was dead or alive. Then there was a weak heart beat and he opened his eyes for a couple seconds," Adam said.
Timmerman was certified in CPR last May along with his freshman class at Coldwater.
Deb Smith, Coldwater's junior high health and phys. ed. teacher, said the CPR certification classes have been taught at the school for at least 25 years.
"The students are well versed (in CPR) when they leave. The course is three weeks and the kids get an American Health and Safety Certification. In fact, they don't get out of the course until they are certified," Smith said last week.
Smith said she's very proud of Adam, who was a group leader in the certification course last spring. "He didn't panic and went straight into what he was trained to do," she said.
"Recognizing that the CPR was not being done properly was a big thing in itself," Smith continued.
Elizabeth Dick, a reporter for the Somerset (Ky.) Commonwealth Journal, told The Daily Standard Monday that Burton, a Cincinnati native, was released from the University of Kentucky Medical Center's burn unit in late August and was "apparently doing well" at that time.
When he was taking the class last year, Timmerman said he thought it would probably turn out to be something he'd never use.
"It just shows you can't ever know what's going to happen. I'm glad I learned what to do," he said.
Phone: (419)586-2371, Fax: (419)586-6271
All content copyright 2003
The Standard Printing Company
P.O. Box 140, Celina, OH 45822