By RYAN HINES
rhines@dailystandard.com

A four-point advantage midway through the second quarter for Celina turned into a 17-point loss as the Bulldogs were beaten by Kenton 36-19 in a Western Buckeye League contest at Celina Stadium.
Kenton, the two-time defending Division IV state champion, improves to 2-2 overall on the season and 2-1 in the WBL while Celina falls to 2-2 on the year with a 1-2 mark in league play.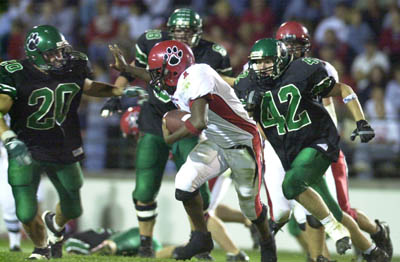 "I have no complaints from our effort tonight, because I think that we gave it all that we had," said Celina head coach Mike Fell. "If you play a game as hard as you can play it, regardless of the outcome, you've got to be proud of the kids. I'm not happy with the results, but the effort was there."
Celina held a 19-15 lead with 5:37 to go in the first half when Kenton grabbed momentum and ran with it.
With 3:31 to go in the first half, Kenton took over offensively at their own 15-yard line. The Wildcats then used a balanced offensive attack to march down the field 85 yards on a 12-play drive resulting in a one-yard touchdown for running back Zach Jackson. It was Jackson's second touchdown of the night as the sophomore running back amassed 87 yards rushing.
Kenton got the ball immediately following the first half of action and quickly got back on the board.
On just the third play of the second half, Spivey took a pitch on a sweep play and raced around the corner, broke one tackle and didn't stop until after a 60-yard touchdown put the Wildcats on top 29-19.
"Celina had a nice game plan in the first half and executed it really well, that's why they had the lead in the second quarter," said Kenton head coach Mike Mauk. "We made it a 10-point game in our favor early in the second half and that was a momentum play that was huge in our favor."
"They (Kenton) scored right before the first half ended and then right at the start of the second half and those were two huge scores for them," stated Fell. "They got the momentum then and never let up."
Celina's next drive included a 38-yard passing play from Joe Kanney to Brian Gagle, but the offense stalled and the Bulldogs were forced to punt.
Spivey and Jackson did most of the damage on the next Kenton drive. Spivey ran a fake sweep and passed the ball to D.J. Underwood for a 38-yard gainer and then Jackson ran the ball three straight times for 12 yards before Billy Cozad ran a quarterback sweep for a 12-yard touchdown. Cozad's run came at the 6:34 mark of the third quarter to put Kenton on top for good at 36-19.
Kenton had a very balanced offensive attack on Friday rushing for 242 yards while also passing for 215. Cozad had 230 yards of total offense while Underwood hauled in six passes for 111 yards.
"Billy continues to improve as a quarterback," said Mauk. "The more game time and experience that he gets, the better he will get. He threw the ball well and made some plays with his legs too."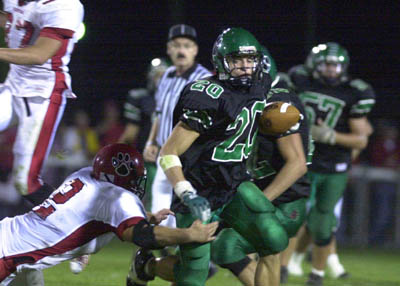 "The Cozad kid played a great game tonight," lauded Fell. "I don't know how many times that we had him and then he would escape and make a big play. Nice athlete that threw and ran well."
Gagle had an outstanding all-around night for Celina with 86 receiving yards, 36 rushing yards, 35 passing yards, nice yardage off of special teams returns and double digit tackles on defense. Gagle, playing a lot of running back with Kyle Schott out for the season, got the scoring started in the contest with a 20-yard run.
Kenton answered with a Jeff Parsons 13-yard pass from Cozad before Kanney faked a handoff to Brady Bonifas and then followed him through the hole for a 37-yard scoring run putting Celina on top 12-7.
Kenton's Jackson and Celina's Bonifas added touchdown runs in the second quarter before the Wildcats scored the final 21 points of the game for the win.
Celina is back in action Friday at home against Elida while Kenton hosts Defiance.

Phone: (419)586-2371, Fax: (419)586-6271
All content copyright 2003
The Standard Printing Company
P.O. Box 140, Celina, OH 45822