By SEAN RICE
srice@dailystandard.com

Hundreds of voters across Mercer County will need to report to new polling places to cast their votes this November, as county officials made several pre-election changes and preparations this week.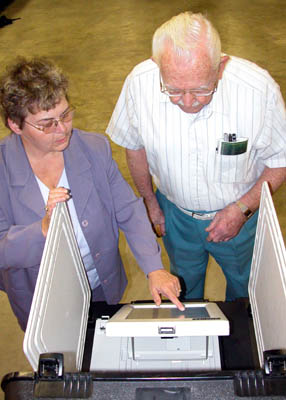 Also, a couple of candidates' petitions were not certified to the November ballot due to mistakes made on nominating documents, resulting in two candidates from Rockford village and Liberty Township switching to the write-in candidate procedure.
Rockford Village Clerk Amy Lyons and new candidate for Liberty Township Trustee Ron Linn did not have the circulator's statement signed on their petitions by the time the filing deadline passed in mid-August. Both candidates met Monday's write-in candidate deadline to get on the ballot.
Mercer County Elections Board members also rejected Roger Cooper's petition to join the Celina City Schools board of education race after discovering that he has moved away from his Celina residence.
Elections Director Toni Slusser said a registered letter sent to Cooper's residence in Celina came back with a forwarding address to Tennessee.
Cooper declared that he was joining the school board race during the height of debates over closing the district's Franklin Elementary School in Montezuma.
With all the school board and township trustee races, there will be more than 120 local candidates on the ballot across the county and 19 issues to be decided.
Voters near Coldwater, Rockford, Mendon, the Maria Stein community, in Jefferson Township and in Burkettsville all have new places to report to when casting votes on Nov. 4.
The polling place changes are as follows:
• In Butler Township, voters were reporting to the Butler Township house and the Coldwater firehouse. With the change, all voters in the township will cast votes in the new municipal center on Sycamore Street.
• In Marion Township, Marion west voters were voting at the Catholic Knights of America Hall. Now, all of Marion Township's voters are to report to the Knights of St. John Hall on Ohio 119.
• In eastern Jefferson Township, all voters who formerly voted at the township house will need to report to the Galleria in Celina, off Wayne Street. That brings the number of precincts voting at the Galleria to seven.
• Voters in Rockford and Dublin Township, who formerly voted at Parkway High School, will have to report to the new community building, near Shane's Park.
• In Burkettsville, the voting precinct there was combined with the Granville Township precinct. All those voters are to report to the St. Henry American Legion. That reduces the county's total precincts from 40 to 39.
Amid complaints from resident Bob Nolan about voting in a church, elections board members moved to allow Slusser to switch the polling place in Mendon to the public library, if the building is suitable. Slusser said the voting place for the village was changed to the United Methodist Church from the village hall because of issues with handicapped accessibility. Nolan complained that government voting should not take place in a church.
Phone: (419)586-2371, Fax: (419)586-6271
All content copyright 2003
The Standard Printing Company
P.O. Box 140, Celina, OH 45822