By JANIE SOUTHARD
jsouthard@dailystandard.com

Celina High School cross country team, coach Lore Long and bus driver Sue Barga received an impressive trophy and accolades at Monday night's board of education meeting.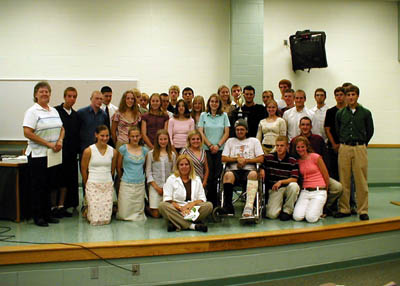 District Superintendent Fred Wiswell praised team members for their courage and bravery in responding to an accident that occurred in front of the bus on their way to a Labor Day track invitational. He then introduced surprise guests: the accident victim Kevin Rudy and his wife Sarah.
"There are no words to sum up my feelings. Thank you for saving my husband's life," Sarah Rudy told team members, who were seated in the front row of the high school lecture hall.
Kevin Rudy, bandaged and obviously banged up after the near-fatal accident on U.S. 30 not far from I-75 near Beaverdam, approached the microphone in his wheelchair.
"I know you were unable to attend the track meet, so I want to present to you all this trophy. I wouldn't be here without your help," Kevin Rudy said.
The trophy inscription reads: "To the Celina High School Cross Country Team. Thank you for saving my life. Kevin Rudy. Aug. 30, 2003."
"This is an exceptional team. They've proved themselves on and off the track. And, Kevin and Sarah, you're now part of our team, too," Coach Long said accepting the trophy.
Long explained to the audience that the accident occurred when Rudy's car attempted to pass the Celina bus and collided head-on with a westbound tractor trailer on U.S. 30.
Board member Mary Lehman pointed out that several of the students had taken the applied physiology class at school.
"I would remind the community this is a special class we offer and not a core class. There are those who say we don't need the special class. But, as you see, this one literally can save lives," Lehman said.
Each member of the team was recognized as he or she was called on stage to receive a certificate of commendation from Wiswell and board members.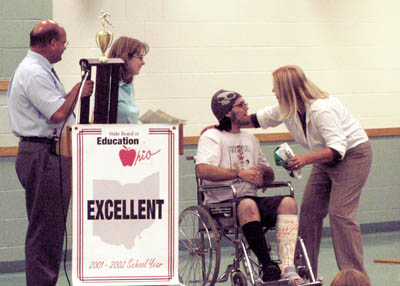 Wiswell also read a letter from the commissioner of the Ohio High School Athletic Association praising the team and coaches for "good citizenship in action."
On another note, Wiswell and Celina Education Association President Phil Long spoke fond remembrances of Bruce Strohl, middle school teacher and coach, who died Saturday at Arthur James Cancer Center, Columbus.
Board members passed a number of Wiswell's recommendations regarding Tri Star Career Compact, including changes in instructor contracts to provide morning and afternoon sessions in e-commerce and the purchase of a Haulmark Trailer for the construction program.
This will replace the 18-wheel semi-trailer that was junked two years ago, according to Tim Buschur, Tri Star director. Only reserved capital funds will be used for the $4,037 purchase.
Board members also approved the Chicago field trip in April for gifted students in fifth grade. Cost of the trip is approximately $250 per person, which will be paid by the students and parents who participate. No general fund money will be used.
Phone: (419)586-2371, Fax: (419)586-6271
All content copyright 2003
The Standard Printing Company
P.O. Box 140, Celina, OH 45822