By MARC TOBIAS
Sports Writer

Celina's boy's squad may have played its best match so far this season, unfortunately, they ran into an Elida team that's a lot better than its 3-3-2 record coming into the game indicated.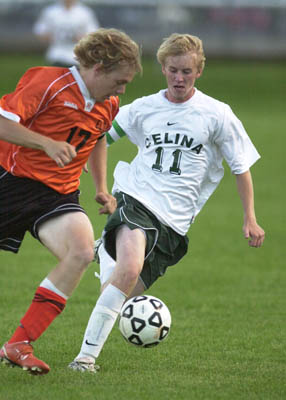 One of Elida's losses came against the second-ranked team in Division I in Toledo St. Francis, and its other loss was to Bishop Waterson which is the fifth-ranked team in Division II.
Nonetheless, Celina gave it a valiant effort in the 3-2 loss, and it had two quality scoring chances in the final minute to tie the game.
With 40 seconds remaining, Celina got a free kick a few yards past the right side of the 18-yard box and they pushed nine players in the box for a chance to score.
Elida was able to clear the ball though and end the threat, but the Bulldogs had one more chance when a throw-in from the right sideline bounced into the penalty box where a hustling Alex McKirnan was able to get a solid foot on the ball. McKirnan's shot went wide left and Elida left town with its Western Buckeye League title hopes still intact.
"I was pleased with our effort tonight, if we can play this way every night we're going to do okay this year," said Celina coach Bruce Strine. "We're getting better and we had some nice looks at the goal at the end and that's all you can ask for. That's a quality team, and I told the guys you always like to see the score higher on your side, but effort wise, I felt like we put the effort forward and showed up to play."
Elida coach Scott States said it was another game his squad had to sweat it out until the end.
"With 10 seconds to go it felt like deja vu in the O-G game, because they had one (throw in) and it went in the box and they scored, fortunately, sometimes luck has to be on your side and in that case I think it was," States said.
Elida has already twice this year seen late leads slip away in WBL competition. They had a two-goal lead against Ottawa-Glandorf turn into a 2-2 tie in the closing minutes, and Kenton was able to score a late goal for a 1-1 tie.
States dropped his midfielders back to defense in the closing moments of the game to help ensure the victory this time.
"I told the players for that final seven (minutes) we did a very nice job getting the ball down here (offensive end), dumping it and holding it in the corners," States said. "That was the game plan when I subbed Alex Wilson at the eight-minute mark, and I thought we did a much better job of that than we have in the past."
Around the same point in the game Strine made a countermove in which he changed his formation to a 4-4-3 so he could have an additional striker to try and get the tying score.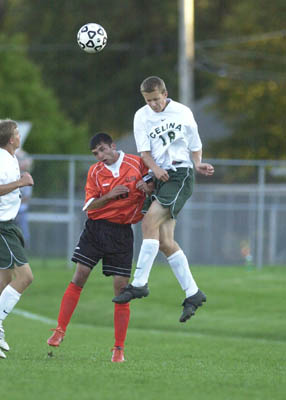 "I don't care if we lose by one or five goals, we might as well go for it," Strine said when his team was trailing by a goal. "It gave us a little more striking power and took a little bit of control out of the middle, but with them in a defensive set you might as well go for it."
Elida controlled the majority of possession in the first 40 minutes of the game, but it was Celina who scored the games opening goal.
Jeremy Johnson was able to find a loose ball inside Elida's penalty area off a Celina corner kick, and when he did he struck a solid ball with his left foot for the 1-0 lead with nine minutes until halftime.
It didn't take Elida long to respond, as Tony Moore was able to dribble two Celina defenders before dishing off to Shane Ramsey who was camping in front of the Celina net. Ramsey tapped home the goal and it was a 1-1 tie at the half.
Elida displayed a plethora of talent and speed all throughout its lineup, and that skill was very apparent in its transition game.
In the 45th minute, Elida used a quick counter attack to score its second goal. Elida moved the ball from its defense to offense in a heartbeat, which allowed Brian Warner a lot of room to dribble. When he did, it drew the Celina sweeper out, and allowed him to pass to the side where Moore scored the first of his goals.
"That's part of the trademark for our team this year, we work real quick and when we win the ball in our defensive third, boom we're out in three or four passes," States said. "We have some pretty good speed with Brian Warner and Tony Moore up top."
Celina battled back as it did all night, when Kyle Grunden scored 30 seconds later by drilling a shot from around 25 yards out.
Moore answered for Elida four minutes later when he was able to spin past one Celina defender and muscle in a shot for the game-winning goal.
Celina falls to 3-5 (2-2 WBL) while Elida improves to 4-3-2 (2-0-2 WBL). Celina is back in action Thursday at Bath.