By GARY R. RASBERRY
grasberry@dailystandard.com

COLDWATER — Monday's Western Buckeye League tennis match between Celina and Wapakoneta was one that could be a momentum builder.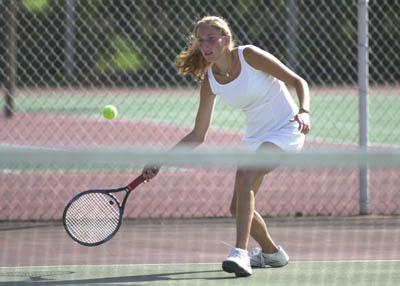 Celina came in 3-4 in the WBL and a win could help the NetDogs to a winning league season pending the outcome of the restart of the Bath match. Wapak was 5-3 and looking to get closer to unbeaten Shawnee in the league tables.
It truly came down to the last match of the day as the second doubles match went over the two-hour mark before Wapak took the match and the series from Celina 3-2 at Coldwater Community Park's tennis courts.
The Redskin tandem of Lena Plescher and Katy Jordan needed three sets before coming away with the 6-4, 2-6, 6-2 win over the a strong Celina duo of Amy Wellman and Samantha Heckler.
"I thought our second doubles girls played very well," said Celina coach Jan Morrison. "That Wapak team has only lost one this season (against Ottawa-Glandorf). Our second doubles gave them a good battle. I would have liked to have won it, though."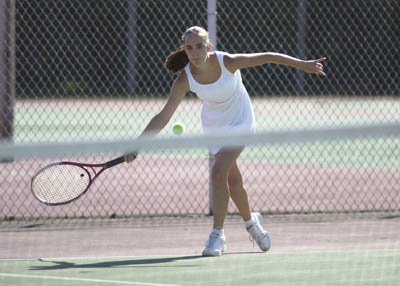 Celina forced the tie of matches when second singles player Amy Zender, on fire of late in winning the second singles title at Saturday's Sidney Invitational, beat Katie Wittwer 6-1 and 6-1 to give the teams two wins each.
The other win for Celina came from first doubles as Jen VanTilburg and Amanda Starns needed just two games to down the Wapak pair of Tracy Slonker and Meghan Kellerman for the second time in three days. VanTilburg and Starnes beat the pair in the opening match of first doubles at the Sidney Invitational.
In the other singles matches of the day, Kelsey Cook lost to Hanna Hager 1-6 and 1-6 in first singles while Lindsay Miller lost to Kelly Haehn 4-6 and 0-6 in third singles.
"Zender and first doubles are coming on strong," said Morrison. "Kelsey is playing hard but she's facing tough competition. There's some really good first singles players out there."
While the loss will deny Celina a winning league match record, Morrision hopes that this motivate the team at the WBL meet coming up next week at Ottawa-Glandorf.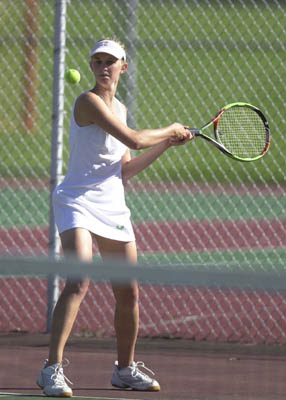 "We'll have to do it in tournament," said Morrison. "We'll have to get ahead of people in tournament that we feel we could have beat in season."
The resumption of the match with Bath has been scheduled for Sept. 24. Celina's next match is Friday at Coldwater against Sidney.
Sidney Invitational — The NetDogs placed third in the four-team invitational, scoring 19 points. Wapak was first with 23 points followed by Wayne with 20. Sidney was fourth with 15 points.
Cook placed third in first singles after losing to Wayne's Phong Coo in matching 5-7 sets before beating Sidney's Molly Hall 6-2, 4-6 and 6-2 in the consolation.
Zender went 2-0 to get the second singles title, eating Becca Stover of Sidney 6-4 and 6-4 for the title.
Heckler lost both matches to take fourth in third singles, losing to Megan Witt of Sidney 2-6, 3-6 then dropping the final match 2-6 and 0-6 to Yen Ngo of Wayne.
VanTilburg and Starnes won the first doubles title after beating Kathleen Secor and Michalela Chroo of Wayne 6-0 and 6-0.
Miller and Wellman teamed up for fourth place in second doubles, losing 6-7, 0-6 to Amanda Braun and Cara Bey of Sidney before dropping the second match to Anna and Mary Secor of Wayne 7-6, 4-6 and 2-6.
In reserve matches, Kelly Rutschilling placed second, losing to Whitney Holmes 0-6 and 2-6. In doubles, Siri Neelati and Erynn Piper placed third, falling 0-6 and 0-6 to Heidi Clayton and Tessa Bell of Sidney.
Phone: (419)586-2371, Fax: (419)586-6271
All content copyright 2003
The Standard Printing Company
P.O. Box 140, Celina, OH 45822